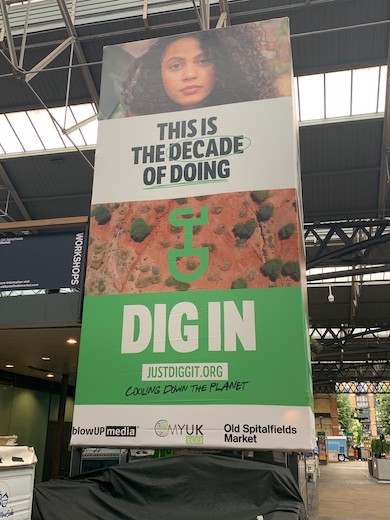 CMYUK partners with blowUP Media to raise awareness for global warming and greening Africa charity
CMYUK, Shrewsbury – CMYUK has partnered with blowUP Media to provide PVC-free Kavalan banner material for the latest awareness campaign for global warming and greening Africa charity Justdiggit.
CMYUK donated a 3200mm x 25m roll of PVC-free Sunlight Weldable Kavalan for a large static banner space situated within the bustling and popular Spitalfields Market adjacent to the City of London.
blowUP Media has an ongoing partnership with Justdiggit that began in the Netherlands in 2016 and has since been extended to the whole group across the UK, Germany and Belgium. blowUP helps to create awareness for Justdiggit by offering digital media space across each of these four countries.
The campaign was printed free of charge by Hungerford-based digital print service provider Vertical Vision. "With the environment and sustainability being a focus point for blowUP, we have been getting regular updates from our print partners on the progress of PVC free material. We were made aware of this PVC free material and decided to trial Kavalan, as it seemed the perfect option for us to test. We hope that once testing is complete, we will be able to offer this alternative more widely to brands," said Simon Russell, Managing Director of blowUP Media.
As brands and businesses now include sustainability targets in their printed marketing and promotional specifications, the case for Kavalan PVC-free material has never been so compelling. Many large digital print providers including Artwork Systems, Hollywood Monster, Imageco and Super-wide Digital have all recently announced their switch from traditional PVC banner material to PVC-free Kavalan.
"blowUP Media is focused on working towards our goal of being able to post carbon neutral advertising campaigns, through a number of different options. If we can offer clients the opportunity to use PVC-free material for their campaign, it is another step in the right direction. Our banners are already recycled, and clients have the option to upcycle the banner into a bag post campaign or add PURETi spray to reduce pollution in the area," said Russell.
"It is vital that we can soon offer the brands we work with the opportunity to create bold and compelling advertising campaigns that have the environment in mind. Using PVC-free material is another way to reduce our carbon footprint and work towards our goal of sustainable campaigns," he added.
Wessel van Eeden, Marketing Director at Justdiggit said, "At Justdiggit it is our mission to cool down the planet by applying nature-based solutions at scale. As an organisation that is all about saving and protecting our planet, using environmentally friendly materials to spread our story is, needless to say, a necessity. That's why we are happy to have been provided with Kavalan PVC-free materials for our current out-of-home campaign. This way we can spread our message and regreen hearts and minds in a sustainable manner."
Justdiggit is partnered by a number of global corporates from media agencies to international NGOs and businesses including Google, Sky Media, JCDecaux, Ikea Foundation, Timberland, National Geographic, EY, afr100 and Havas Africa.
Damien Clarke, CMYUK Materials Sales Director, said, "CMYUK is really delighted to have worked with blowUP Media and Justdiggit to help realise this campaign. The environmental message is loud and clear, and there is no time to waste. We all have a part to play in safeguarding our planet, and we are delighted that Kavalan, part of the CMYUK eco responsible materials collection has played a part in this urgent narrative."