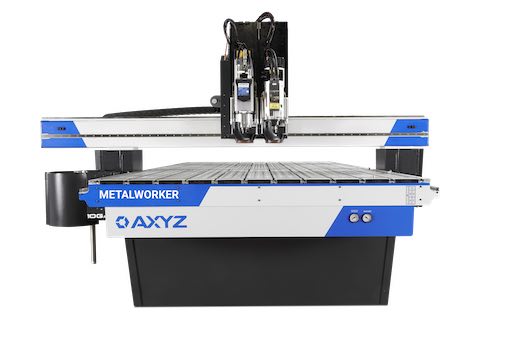 AAG Tailored Cutting Solutions™ is excited to announce the all-new AXYZ METALWORKER and WARDJet M-Series to their line-up of powerful CNC machines. These high-performance cutting systems deliver results while pushing the boundaries of creativity and manufacturing excellence.
OPTIMIZED FOR LARGE SHEET NON-FERROUS METAL FABRICATION
METALWORKER is a router designed with an elegant user interface and robust construction, breaking through tradition with high-end finishes achievable at top cutting speeds. It comes loaded with standard high-performance features optimized to cut Aluminum, Copper, Zinc, Metal Composites, Mild Steels and Stainless Composite. A rigid frame coupled to a stress relieved gantry reduces tool motor vibrations and provides fantastic edge quality
HIGH-SPEED HIGH ACCELERATION – NEVER SACRIFICE YOUR CUTTING AREA
The M-Series waterjet is a high-speed high acceleration large format solution for large and multiple sheet production. It allows for multiple head configurations on a single gantry. With the ability to park heads outside of the cutting zone, you won't sacrifice the full cutting envelope to a single head. The hardened helical rack and pinion drive allows up to 1400ipm high accelerations while maintaining extreme accuracy.
Both cutting systems use a highly intuitive CNC control system powered by AAG MOVE ™.
QUESTIONS?
For more information on METALWORKER or any other router, contact your local AXYZ Sales Rep by completing the online contact form or call 1-800-361-3408.
For more information on M-Series or any other waterjet, contact your local WARDJet Sales Rep by completing the online contact form or call 1-844-WARDJET .
To see a variety of router/waterjet options, parts and accessories, visit CNCShop.com and take advantage of the latest promotion.
AXYZ Tailored Router Solutions is a leading global manufacturer of CNC routers. With more than 30 years of experience, AYXZ has built and installed thousands of CNC machines for industries including Sign & Graphics, Construction, Aerospace, Automotive, Furniture & Cabinetry, Packaging, Marine, Medical, Energy and Education.
WARDJet is an Ohio-based designer and vertically integrated manufacturer of tailored waterjet cutting solutions that are used to cut materials ranging from tinfoil to titanium.