He brings to the growing company more than 25 years of experience in label sales, manufacturing and management.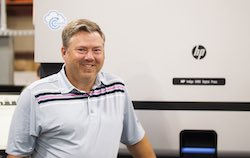 Queensbury, N.Y. – SheetLabels.com, a digital and flexographic label manufacturer based in the heart of New York's Adirondack region, has announced the addition of Alan Etheridge as its new Senior Vice President. He brings to the growing label manufacturer and e-commerce specialist more than 25 years of industry sales, marketing and management experience.

Etheridge previously held leadership positions at Nashua Corporation, Infinite Packaging Group, and Hyde Park Label/Century Label. Most recently, he held the position of director of customer engagement for RR Donnelley.

During Etheridge's time as co-owner and managing director of Hyde Park Label, the 2015 TLMI Converter of the Year, he oversaw the purchase and installation of the first HP Indigo WS6800 in the state of Texas. The move propelled Hyde Park Label into 8x sales growth before being acquired in 2016.

Adam Gray, President and CEO of SheetLabels.com, says, "Alan's extensive experience in delivering value to clients, combined with his engaging leadership style, will immediately have a positive impact on the overall strategy of our company now and going forward. He will be a tremendous partner to the team, and joins us at an exciting time as we continue in our rapid growth trajectory. Alan's entrepreneurial vision, character, and dedication to putting clients first will certainly take both our customers and company to the next stage of growth."
In the newly created Senior Vice President position at SheetLabels.com, Etheridge will oversee and manage daily operations, grow and develop the Client Support Team, direct revenue growth into specific market verticals, and develop a national sales team while furthering the company's strategic goals through M&A activity.
Etheridge comments, "SheetLabels.com is extraordinarily well-positioned, in both a capabilities and support standpoint. From capital investments to team development, this organization is poised for positive, exponential growth and I am thrilled to join such a dynamic, entrepreneurial organization. I'm very excited to unite with Adam and his team, and look forward to the growth journey ahead."