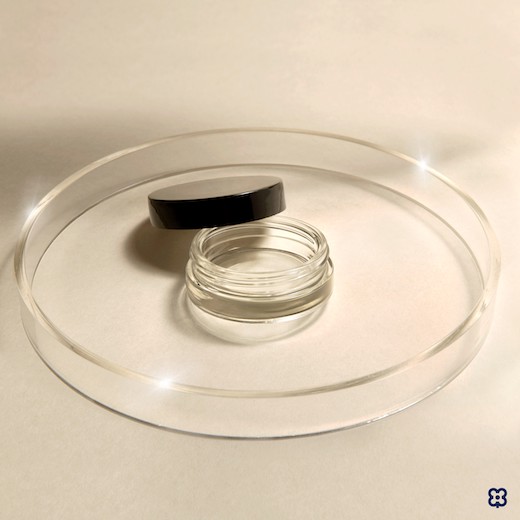 New Oprah Jar 30 Super-Weight (SW), designed for ease of use, expands the Oprah Jar line to include three sizes.
Richmond Hill, NY – Baralan, a consolidated player in primary packaging for the cosmetics and beauty industries, has introduced its Oprah Jar 30 Super-Weight (SW), a wide-neck glass jar developed specifically for skincare products. This new jar expands Baralan's existing Oprah Jar line to now include three sizes: Oprah Jar 5, 15, and 30 SW.
The Oprah Jar 30 SW most notably features a thicker, super-weight glass-bottom designed for modern, premium style appeal. This new jar is produced with press-press technology, which forms the container by pressing the glass without it being blown inside, guaranteeing better continuity of the internal surface of the container. Oprah Jar 30 SW is characterized by a big diameter, wide mouth, and low profile. In addition, the jar's large neck enhances the user experience by making it even easier to retrieve product and minimize waste.
The new jar has a 30 ml capacity with a GPI 70 Doubly Entry neck thread, which guarantees a secure closure ensuring the integrity of the filled product with no product loss. Moreover, the body of the jar fits perfectly in line with the Malang 70 cap for optimal compactness.
"At Baralan, we are constantly looking for ways to broaden our product offerings with unique additions that increase the range of available packaging options for our customers," said Maurizio Ficcadenti, Global R&D Manager at Baralan. "Our Oprah Jar 30 SW not only has a luxe look and feel that end-users are sure to enjoy, but also incorporates several functional benefits that aim to enhance user experience."
For more information, visit www.baralan.com.