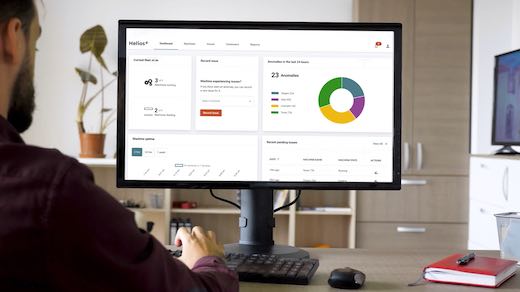 The OEM-Agnostic Industrial Internet of Things (IIoT) solution from SUN Automation Group maximizes profitability for corrugated manufacturers through actionable data and insight

Glen Arm, Md. – Helios, the new AI and Machine Learning platform by SUN Automation Group tailored specifically to the corrugated converting industry, announced today it is unveiling its solution to the corrugated industry in person at SuperCorr 2021, Aug. 8-12 in Orlando, Florida, in the SUN booth 1931. The platform is OEM-agnostic and engineered to provide corrugated manufacturers access to robust, actionable insight into the performance of their machines -- enabling minimized downtime, optimized maintenance schedules, and maximized profit.

"We're looking forward to the opportunity to introduce Helios to the corrugated industry in person at SuperCorr 2021," said Matthew C. Miller, Director of Technology, Helios. "So many corrugated plants rely on human intuition and experience to drive their decisions. With Helios, anomalies that are imperceptible to even the most well-trained operators can be detected in real-time and acted upon. The machine learning capabilities mean that the platform only gets smarter as it processes more data and user reactions."

Helios is designed to minimize downtime, maximize profitability, and decrease the opportunity cost associated with only taking machines offline for preventative maintenance (as opposed to major malfunctions). These high-level benefits manifest themselves in specific cost and resource-optimizing operational benefits and actionable insights.

Some of the most beneficial insights are preventative/proactive parts ordering, knowledge about the exact time and cost of parts replacements, the ability for operators to pinpoint the source of slowdowns and other issues, and operator-efficiency training to help machine operators learn and adapt to best practices.
Helios provides core insights from an accessible, user-friendly dashboard enabling three key benefits: remote monitoring, predictive maintenance, and anomaly detection.

Remote monitoring provides deep insights into current and historical machine operation and performance that can be seen and accessed in real time from any device. Predictive maintenance optimizes machine maintenance intervals using artificial intelligence that adapts based on the machine operation and usage. Anomaly detection notifies users about abnormal machine states that allow operators to react to a potential issue before the failure occurs.

By visiting the SUN booth 1931, corrugated manufacturers will have access to a free Helios demo, allowing them to experience the platform and try out a Return On Investment calculator that can showcase the benefits that the solution offers to operations of all sizes and scales.