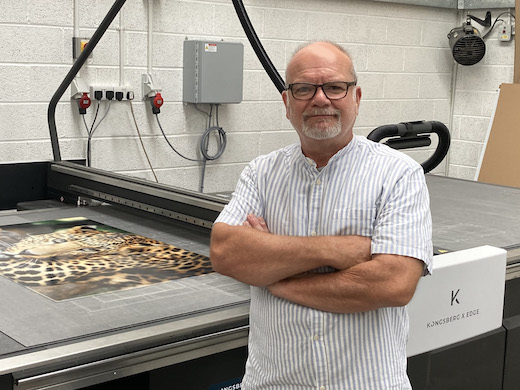 David Peters
New digital cutter puts versatility at the heart of this Bristol-based business
CMYUK, Shrewsbury – Bristol-based Fountain Print, part of the Fountain Group has purchased a Kongsberg X24 Edge from CMYUK.
The newly acquired digital cutting table was purchased to complement the company's existing digital large-format hybrid Latex printer, and banish the finishing bottlenecks that were building up behind its roll-to-roll SUMMA cutter. The X24 has also given the Group the ability to offer a wider range of products in numerous different sizes and shapes.
"The finishing of Correx, Foamboard and Dibond, which has always been a problem has been transformed. The Kongsberg is a revelation in terms of what is now possible," says David.
Lockdown lessons
One positive aspect of Lockdown has been to force businesses to take stock, review their business practices, and accelerate the pace of change. This is very much the experience at Fountain Print, which after internal reorganisation, investment in new machinery, people and extensive training, has emerged re-energised and excited for the future.
The company has now restructured under the Fountain Group umbrella, and as such is better placed to serve the print requirements of all customers large and small.
"We've recognised our clients' desire to achieve more energy efficient and environmentally sensitive print solutions, whilst at the same time driving down unit costs by investing heavily in new high quality, technologically advanced print and finishing machinery that includes the Kongsberg," says David.
Fountain Group
The Fountain Group offers offset, screen, large-format digital printing and exhibition stand building services. This wide reach means the Group can produce anything from business cards, through to window decals, PoS, estate agency boards, bespoke expo stands, and everything in between.
"Many of our existing customers will be aware of our sign writing services company Signboard, a major supplier to the Estate Agency market for over 20 successful years that is now future proofed by our investment in new equipment. Less well known is our recent absorption of the exhibition company Display Matrix, now re-branded Fountain Display and retaining the key personnel that have served Blue Chip companies so well for decades," he adds.
One area that the Group intends to focus on is display, exhibitions and event work.
"My experience of offset printing over the last 20 years is that it has been a race to the bottom on price. It's a high investment environment but with a product that has generally been commoditised. Customers can get the cheapest price very quickly online and there's always a printer that's willing to cut down even further to get more work on the press. For many, the Internet has been a hard taskmaster," says David.
"Exhibitions, events and construction are areas of business where customer service and relationships are still very important. These are bespoke services rather than just print requirements that can be farmed out to the cheapest producer," he adds.
The Kongsberg edge
The Kongsberg X24 Edge was installed at the start of June and Fountain Print staff are quickly getting to grips with the capabilities that this piece of equipment offers. "The additional capacity we now have is mind boggling. Fast throughput means so much more capability which lends itself to finding new work streams such as producing props and sets for TV and film," he says.
The X24 Edge can handle any type of application for signage, display and packaging with high production speeds, exceptional cutting quality and is fully upgradable. There are a variety of milling options to match production requirements, plus accurate print-to-cut registration particularly useful for heavy distortion and jobs longer than the table.
Fountain Print opted for the Kiss Cut, RM Knife and Milling Router tools and is looking to purchase a Creasing Wheel as soon as warranted. It also installed i-Cut software. "It is very smart and versatile, smoothing out production, making the processing and presentation of jobs much easier," says David.
The Group plans to continue its drive towards greater sustainable solutions for its customers, and as far as the future is concerned, has everything to play for. Says David, "We've got a great deal of in-house expertise with highly versatile production capabilities, and momentum is starting to build. We've already got some exhibitions for later in the year. I'm a great believer that if you've got the right facilities then customers – trade, direct or otherwise – will come."