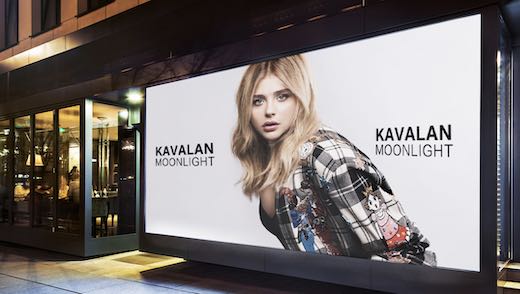 TAYA Groups has officially launched the world's first Eco Calculator for large-format banner materials, making it simpler than ever for businesses to evaluate and understand the eco savings of KAVALAN PVC-free banner and textiles. The scientific data is based on the Life Cycle Analysis (LCA) process conducted by SGS, the world's leading testing, inspection and certification company. SGS conducted LCAs on all the latest KAVALAN products and the LCA data proves categorically that KAVALAN materials provide significant eco savings, with 12 products available for comparison with their PVC banner and textile counterparts on the Kavalan Eco Calculator.
The web-based Eco Calculator uses comparison data from five prevalent environmental impacts; global warming, water consumption, human carcinogens, PM2.5 (polluted particles), and fossil fuel scarcity. Users simply enter the KAVALAN product of their choice, their preferred unit of measurement, and the quantity, and the eco savings result is generated automatically, at which point a personalised PDF report and message is sent straight to their inbox. The Eco Calculator is currently accessible to KAVALAN distribution partners, and the personalised report is available in seven languages; English, French, German, Spanish, Romanian, Italian, and Japanese.
Vincent Lin, Vice President, TAYA Groups, comments: "At TAYA, we put a great deal of effort into ensuring KAVALAN's environmental credentials are outstanding, and we are continuously striving to make our products even more environmentally-friendly, but that's not enough – we also need to make sure we are making it easy for businesses to understand how KAVALAN products can help them meet their sustainable goals, and to see just how significant the eco savings are compared with PVC banner and textiles.
"As we continue to rapidly expand our worldwide distribution network, large-format print businesses working with or pitching to agencies and brands have a powerful tool in the KAVALAN Eco Calculator. No more lazy claims about recyclability, sustainability, or eco-friendly – KAVALAN's Eco Calculator can tangibly demonstrate to your clients how it can help them with crucial environmental targets without compromising on quality."
Users will be able to benefit from the Eco Calculator's ability to generate real-life examples of the considerable difference KAVALAN products can make to our planet, including:

• 10,000 square metres of KAVALAN Butterfly360 Soft will save enough CO2 equivalents emitted during 13 single economy seats from New York to London
• 10,000 sqm of Sunlight Light will save enough fossil fuel to power a BMW 3 series on 12 return journeys between London and Paris
• 10,000 sqm of KAVALAN Spiderweb300 would save the carcinogenic equivalent as 10.4 million packs of cigarettes - equivalent to 552 years of life

To find out more about the KAVALAN Eco Calculator, find your nearest distributor in KAVALAN's distribution network.
For further company information on TAYA Groups, please visit www.tayagroups.com. For further product information on the KAVALAN range, visit www.goforkavalan.com. To begin your green journey with KAVALAN, contact [email protected]