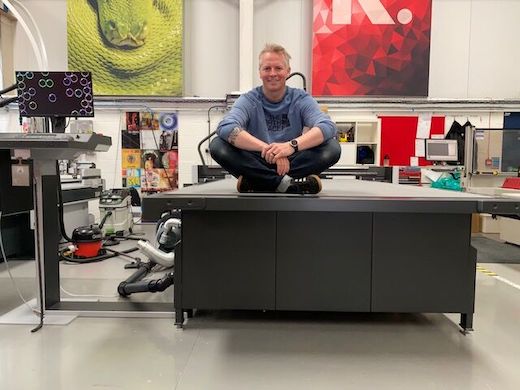 New capabilities and a big push for sustainability is helping this PSP to continue to thrive
CMYUK, Shrewsbury – Essex-based Revolutions Signs has installed a Kongsberg X24 Edge digital cutting table from CMYUK. It follows the purchase of a Canon Colorado 1650 last year.
"Covid has been quite an interesting learning experience from a business owner's perspective," says Ryan Fairweather, MD, Revolution Signs. "It really focuses your energies on your business. We have been busy ever since we returned from the first lockdown because we've got a wide and varied mix of clients, which we've made a deliberate attempt to achieve, so that we don't have all our eggs in one basket."
The company runs two UV flatbed printers, Digital Printers, and a Canon 1650. However, increased work volumes were causing bottlenecks for the existing Zund Z3 digital cutter, which prompted the purchase of a Kongsberg X24 Edge from CMYUK.
"I like the way CMYUK runs its business. I admire its ethos and energy. I have always wanted to do business with them. It's good to work with nice people," says Ryan.
The Kongsberg dimension
The company's client roster means that it handles high volume throughput as well as premium projects including marketing suites and internal fit-outs. Installing the Kongsberg X24 Edge to run alongside the Zund Z3 has more than tripled capacity, vastly improving production speed and efficiency.
"It became quite obvious that we needed to divide workflows so that you have truly independent working areas, each with a production technician that can print, cut and pack without crossing over each other," says Ryan.
While Revolution Signs has been a long-time user of Zund cutting technology, it opted for the Kongsberg X24 Edge because of its versatility and price point.
"It would have been easier to have gone down the Zund route because we're familiar with the technology – we've been working with them for 15 years," says Ryan. "But when we were looking at the capital investment we were thinking of spending, the Kongsberg gives us scalability. It does 10 x by 5 sheets, as well as 8 x 4 sheets, so that allows me to grow. The Zund option that I could get for the same money was a small, limited piece of equipment, so it didn't leave me with any choice. We would have very quickly outgrown it. The Kongsberg has true scalability."
For the way that Revolution Signs works, both the Kongsberg and Zund cutting tables required full integration into the workflow, and the ability to communicate with one another.
Previously Revolution Signs was using Prepare-it! print-to-cut workflow software from Zund. However, with the installation of the Kongsberg, it switched to the powerful i-Cut sign printing software designed for automated prepress processes, workflow automation, and the elimination of workflow bottlenecks.
"It's definitely a great improvement on what we were using, and saving a great deal of time," he says.
Sustainability drive
Sustainability is a major initiative at the company. As well as adopting lithium- ion battery operated forklift trucks, it has installed solar roof panels with the aim to become entirely self-sufficient power-wise by 2025.
The installation of the Canon Colorado 1650 is part and parcel of this eco drive. Able to print both a matt and gloss finish independent of media, lamination is not required – reducing the company's use of PVC-based material.
The Colorado has a reputation for high quality, speedy wallpaper printing. "It's fantastic for that. I can see that we'll be buying a second one," says Ryan.
Revolution Signs is using textiles from the UFabrik ECO range for its wallcoverings. This range – globally exclusive to CMYUK – is made of yarn that is produced from single use plastic waste.
"This is another area where CMYUK is a very good partner because you get a lot of advice on new sustainable materials especially that enable eco alternative solutions, which they obviously care about a great deal.
"Sustainability is an issue that we get asked about more and more. Historically the signage industry hasn't been the greenest, so we want to take a lead. It's really become a personal choice for me," he says.
Going forward
During lockdown Revolution Signs has taken on two new staff members, both from larger print companies – the collateral damage of COVID-19.
Says Ryan, "My main focus is really on the sustainability side of the business and keeping staff in a position where they are in a safe, stable, and fulfilling working environment that has potential for growth if opportunities show themselves."