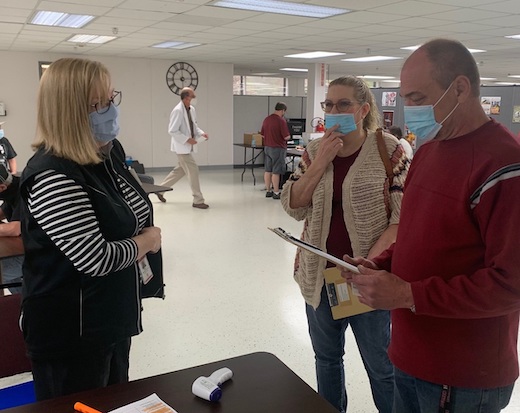 Worzalla associate Jeff Novak and his spouse check in for their COVID-19 vaccine appointment.
Stevens Point book printer coordinates with Portage County to help its associates get vaccinated
Stevens Point, Wis. – Worzalla, an employee-owned book printer specializing in printing high-quality children's books, cookbooks, and hard-cover best sellers, coordinated with Portage County's Division of Public Health to host an on-site COVID-19 vaccination clinic at Worzalla's headquarters in Stevens Point. To create the safest work environment for its 350 associates and to reduce potential community spread of COVID-19, Worzalla decided to reach out to the County to bring a vaccination event to its associates to increase ease of access to the vaccine.
"When we reached out to our associates to see if they'd want to participate in a COVID-19 vaccination clinic on site at Worzalla, we received a great deal of interest in this opportunity," said Brianne Petruzalek, Vice President of Human Resources at Worzalla. "We're grateful to Portage County for working with us to make this event possible and help increase access to the COVID-19 vaccine for our associates and their families."
As a 130-year-old company rooted in the community, Worzalla extended this vaccination opportunity to family members of Worzalla associates, as well. In total, 60 people participated in the Worzalla vaccination clinic. Portage County health officials plan to return to Worzalla in three weeks to administer the second vaccine dose to registrants.
"Increasing the COVID-19 vaccination rate in Portage County will only help our community more quickly return to normalcy and business-as-usual," said Jim Fetherston, President and CEO of Worzalla. "We're proud to have hosted this event to help our associates and their families secure their own personal health and safety with access to the COVID-19 vaccine."
As of May 13, 2021, the state of Wisconsin has reported administering over 5 million doses of the COVID-19 vaccine, with 2.3 million Wisconsinites fully vaccinated. This equates to about 40% of the Wisconsin population being fully vaccinated.
Worzalla is committed to creating a thriving and safe work environment for its associates. Worzalla has been ranked multiple years in a row by the Printing Industries of America as a Best Workplace and has also been recognized with the Safety Shield designation for its policies to ensure safety. Worzalla is currently hiring for 40 open positions, more information is available at Worzalla.com.