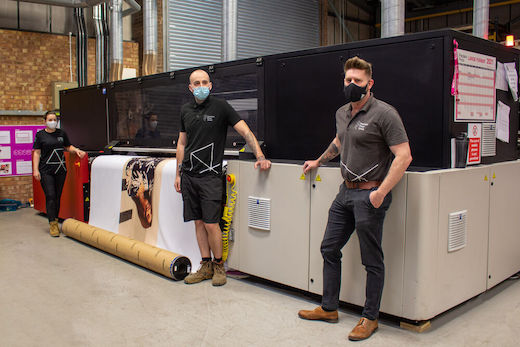 L to R: Anita Urbanowska, Bradley Bradshaw, large-format print operators Carl Jackson, large format manager Precision Proco
Newly established print group is introducing sustainable practice across all areas of business
CMYUK, Shrewsbury – Precision Proco has switched to UFabrik Eco materials from CMYUK. This range is made from yarn that has been manufactured from the waste of single-use PET plastics and is 100 percent recyclable. The UFabrik Eco range offers solutions for frontlit/backlit, blockout, wallcoverings including single piece, and staple wrap-around frames.
"For starters, the quality of the print is really good, and matches the material that we were using," says Carl Jackson, Large-format Manager, "It's a no-brainer to switch to it, and the costs are the same. It gives us an advantage with clients because when we tell them UFabrik is made from recycled bottles, they are really impressed. As price isn't an issue they swop instantly."
One of the company's main clients is a global sportswear retailer that has been pushing its supply chain towards a greater sustainable agenda. Here, Precision Proco is using green materials for promotional applications including eco-friendly paper display board, and when using acrylics for signage, uses 5mm thicknesses rather than 10mm. "Minimising where we can," he says.
New group, new sustainable priorities
Last year, the Precision Proco Group was announced. A result of the merger between Precision printing, Proco, Prime, Where the Trade Buys, and digital marketing and e-commerce platform developer, Climb, representing a £45m multi-site, commercial and online print group. With this move, the company is redefining how it thinks about its impact on the world, and is developing a green plan to involve greater levels of ethical and sustainable attainment.
"We want to balance profitability with doing the right thing and consider our impact on the environment," says the Group's Compliance and Quality Control Manager, Kirsty Osborne.
CMYUK relationship
Carl has been working with CMYUK for three years, initially reaching out for help with a volume textile solution. "That's where the relationship started, and it's just opened up from there. CMYUK was always first in front of us with a new product. It offers products that are out of the ordinary and a bit different to everybody else, that's why I've always kept them in mind. If I need material for a specific use for our stock credentials, I know CMYUK will find it for me," he says.
At present, Carl is set to evaluate PVC-free Kavalan from CMYUK, the game-changing replacement to traditional PVC, which he expects to add as the main product range for banner work.
Says Carl, "The new group that we have created is all about the future possibilities of print. Underpinning that is our commitment to the environment and alternative products like UFabrik and Kavalan. They not only perform better to what they replace but do it in a way that benefits the environment, which is good for business and good for us all."