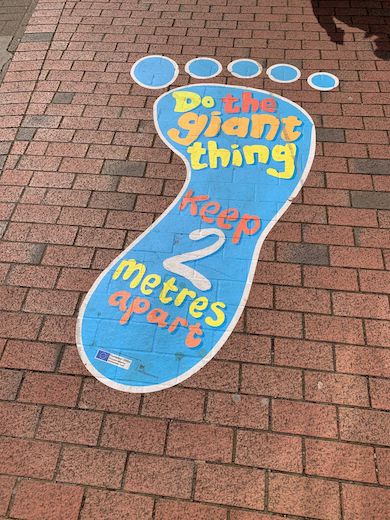 Bristol-based N3 Display Graphics used Drytac Polar Street FX to produce a series of creative floor graphics encouraging social distancing on streets across the city.
Bristol, UK – Large-format graphics production and installation company N3 Display Graphics recently used Drytac Polar Street FX aluminium print media to produce a range of eye-catching outdoor floor graphics to promote social distancing across the city of Bristol.
Bristol City Council designed a series of 2m x 1.1m (6.36ft x 3.6ft) footprint-style graphics for use in high traffic areas of the city ahead of non-essential shops reopening in mid-April. Shops in England had been closed since early January due to Covid-19 lockdown restrictions.
The aim of the graphics was to encourage social distancing among shoppers when they were out and about on the high street, helping to limit any further spread of the virus. As such, Bristol City Council required an attractive design that would stand out under shoppers' feet.
The printed graphics also had to be safe for use underfoot. The Council specified they should have a proper slip rating, meaning they were safe for use in busy areas that could be exposed to wet weather, including high streets and other retail settings
To meet these challenges, the Council turned to N3 Display Graphics, a Bristol-based company that specialises in large-format graphics for both indoor and outdoor use. As a long-time user of Drytac materials, N3 Display Graphics quickly identified Drytac Polar Street FX as the ideal solution for the project.
Polar Street FX is a PVC-free, aluminium print media suitable for both outdoor floor and wall graphics, without the need for lamination. The slip-resistant printable film can be applied to ground or wall surfaces such as brick, concrete, asphalt or any other low energy surfaces. Polar Street FX holds a 'Low Slip Potential' 72 PTV according to the EN 13036-4 Pendulum Test. In the UK, the Health and Safety Executive (HSE) only recognises slip ratings based on the Pendulum Test Method.
N3 Display Graphics Director Nigel Walker explains: "The Council specified that we use aluminium-backed slip rated material so Polar Street FX was the ideal choice for the job."
Polar Street FX is printable with eco-solvent, latex or UV technology, making it a flexible choice. For this project, the giant footprint graphics were printed on two HP Latex 360 printers, resulting in a series of creative graphics that have proved a huge hit with shoppers since being installed at the end of March 2021.
N3 Display Graphics cut the graphics into the curved footprint shape with its Zünd cutter with double edged tungsten blades, which was easily able to handle the strong-wearing nature and toughness of the Polar Street FX aluminium backing.
In terms of working with Drytac, N3's Nigel Walker adds: "We have a long history of mutual respect with Drytac, and they always have the right products at the right price."
The Bristol footprint graphics have been a great success. Nigel continues: "After a month out on the streets, the graphics are all standing up well and are helping people to return to shopping safely.
"The client was happy; Drytac was happy, and we were happy!"