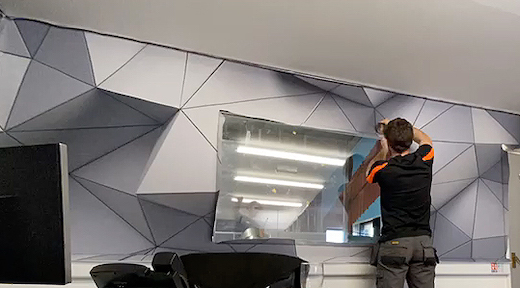 New applications offer new products, markets and revenue streams
CMYUK, Shrewsbury – Nottingham-based Sign Up Systems has become an accredited installer and solutions provider for the PONGS® Descor® textile architecture system from CMYUK. It will now offer acoustic solutions, and leverage the growing interest in interior textile architecture both for the corporate and consumer market.
"We see Descor® as an enhancement to our business. It allows us to offer our existing exhibitions and events customers new applications. It is also opening-up possibilities and potential partnerships in non-traditional sectors, which is very encouraging," says Jon Bromhead, Owner and MD, Sign Up Systems.
Sign Up Systems is currently in talks with a well-known Hi-Fi, Home Cinema and TV retailer to provide a properly managed sound environment that reduces reverberation and excessive noise issues for a superior home cinema experience.
"To start with we're talking about creating cinema rooms with night star-scape ceilings, and meter square acoustic panels that can be fitted onto the wall to bounce the sound. It may be that customers will want to create their own bespoke cinema room, and PONGS® materials allows us to print stunning bespoke walls, ceilings and furniture for these home entertainment rooms," says Jon.
The Descor® System
Textile architecture for interiors is a growth market that has tripled in the last decade, driven by the technological advances in materials, which is fuelling new applications.
PONGS® Descor® is a subtle and easy to apply frame system for fitting one-piece textiles that are stretch-tensioned to appear as a solid wall or ceiling structure. It has a diverse range of parts, suitable for framing even the most complex wall shapes and fittings – delivering a new dimension in branding and personalisation.
The hospitality, corporate and heritage sectors have recognised both the aesthetic and practical advantage of resurfacing walls and ceilings in this way, realising they can retain a high-quality surface finish that can be replaced cleanly within hours, avoiding any mess or disruption.
Sign Up Systems uses all PONGS® acoustic textiles including DESCOR® Premium Acoustic, a sound absorbing fabric that is ideal for floors and ceilings. Silencio®, is an acoustic fabric with a 3D honeycomb structure perfect for creating room-in-room concepts. Akustiko® is perfect for sound optimised interior décor, highly suited for curtains, ceiling sails, and covering furniture with a sound-absorbing function.
It is using these materials to test out new products such as sound proof pods, developed to create a better virtual meeting experience.
"For home working or open plan offices, a member of staff can go into a sound booth, that has professional cameras set-up for a TEAMS or video call. You can have successful, more professional remote board or international meetings with other executives in that sort of environment. People really have a need for this," says Jon.
"Taking this idea further, you can also really see how to improve the meeting rooms on stands at exhibitions. You can create an effective aesthetic, which also had the added bonus of minimising noise from both the stand and the show floor," he says.
Applications showcase
Jon was looking to launch its acoustic solutions over a year ago, but due to the Pandemic had to put this on the backburner. However, the company has been busy creating an acoustic showcase at its premises, optimistic that once restrictions are lifted, it can start to engage with potential new and existing customers in person.
He founded Sign Up Systems in 2006 as a graphic tensioning supplier – convinced that this would be the route for displaying digital wide format graphics. The company quickly grew to include design, printing, manufacture, installation, distribution, maintenance, de-installation and storage to its in-house services.
Fifteen years later, Jon believes Descor® together with PONGS® acoustic textiles have the ability to impact the market significantly, as he says: "This is a massive positive to our ongoing business, and hopefully, we will emerge out of the Pandemic as a stronger company."