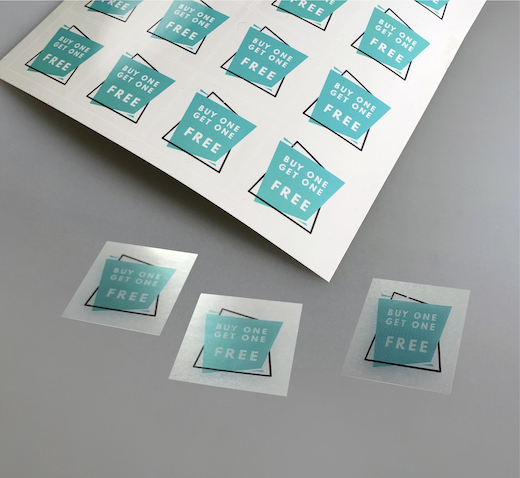 Essex-based print company announces radical changes to its sticker offering, with new products and options available.
Solopress has expanded its sticker range with new materials that remain effective in a variety of challenging environments.
Customers can now choose between label types that variously cope with extreme temperatures, outdoor conditions and high moisture environments, as well as those certified for use in sectors like food and drink, cosmetics and the toy industry.
An exciting development is Solopress' first foray into clear stickers. Printed onto transparent 59gsm gloss clear polypropylene, these labels are ideal for either interior or exterior windows, as well as jars and bottles.
Opaque polypropylene stickers are also on offer, and their resilience and durability ensure terrific performance on curved and irregular surfaces, both indoors and out. They're approved for direct contact with foodstuffs, as well as meeting European Toy Regulation EN71/3, making them a tough and versatile all-round label.
Among the paper-based options, there's a choice between 70gsm naturally uncoated and 90gsm gloss coated paper stickers. These both come in either permanent or removable versions.
The permanent labels feature an aqueous acrylic emulsion adhesive that sticks fast to porous or low energy surfaces like cardboard and plastic bags.
The removeable labels, on the other hand, use a non-permanent formulation of the aqueous acrylic adhesive that allows them to be removed without leaving behind a residue.
This new raft of products comes off the back of Solopress' recently launched Green Range, featuring Vegan Stickers that have already become a hit with brands that have an ethical focus.
According to Solopress MD Simon Cooper:
Stickers have become a growth area for us, with a noticeable rise in demand over the last year. This latest overhaul of our sticker offering has opened up new markets for us among the food and drink industries, as well as other manufacturers, wholesalers and retailers that have special requirements when it comes to labelling. It gives us huge satisfaction to be able to serve these industries and to be a more comprehensive partner to print resellers that operate in these areas.
The full range of stickers from Solopress can be found at https://www.solopress.com/stickers-labels/, with the new products available as Circle, Rectangle or Square Stickers on Sheets.