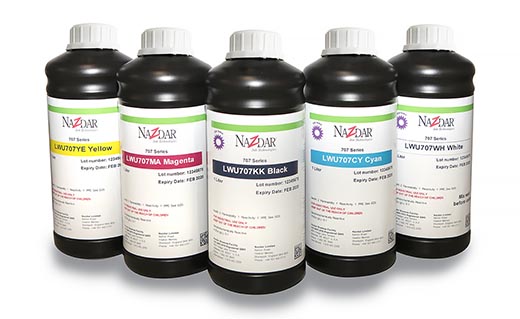 New Nazdar inks offer additional benefit of better chip-resistance on rigid substrates, and better adherence across the POP range of materials.
Shawnee, Kan. – Seeking to cut operational costs for their Mimaki® JFX200-2513 printer, Modern Ink Signs & Graphics (Waukesha, WI) was pursuing a less expensive ink alternative to the LUS150 Series original ink set.
Nazdar was called to provide an ink recommendation, as well as review the shop's equipment, processes, and applications. After a comprehensive evaluation, Nazdar's ink experts recommended 707 Series UV Inkjet inks.
Nazdar's experts converted the machine to the new 707 Series inks and provided training on colour, process, and analysis to the Modern Ink team, ensuring a smooth transition and improved production performance for the shop overall.
Describing the seamless changeover, Ron Scheel, owner of Modern Ink, notes: "We were pleasantly surprised to find a replacement ink that met all the OEM ink parameters - while costing a lot less. After we ran the ink a while, we found it has an additional benefit of better chip-resistance on rigid substrates, and it adheres better across the POP range of materials."
No alterations needed to be made to the Mimaki machine; the conversion process simply entailed baseline measurement of the original inks, replacement with Nazdar inks, and comparative measurements to ensure consistency. An array of images was printed prior to and after installation of the Nazdar inks and were visually approved by both the Nazdar and Modern Ink technicians.
"Our UV inkjet inks are designed to be direct replacements for the OEM inks, while offering significant savings to the end user," explains Josh Lutz, Nazdar's Global Market Segment Manager for UV Digital Inkjet Inks. "The Nazdar 707 Series inks are an economical alternative to Mimaki LUS150 inks, providing comparable colour (CMYK + White), adhesion, jetting, and packaging performance."