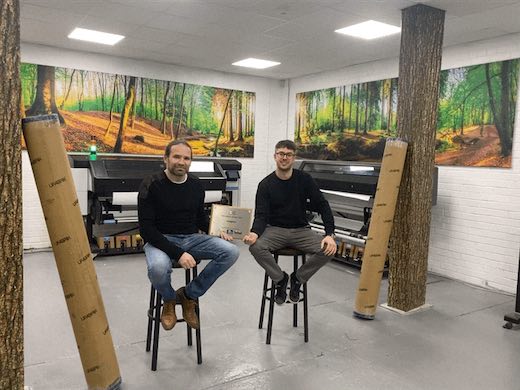 Recycled materials for all frontlit/backlit, blockout and single piece wallcoverings now offered as standard
CMYUK, Shrewsbury – Imageco has announced that it will be offering the UFabrik Eco range from CMYUK as standard. Made from the yarn of recycled PET waste, these materials provide the ultimate in performance, providing an inventive and elegant solution to the problem of single use plastic waste.
This move further emphasises the leading eco credentials of this Leeds-based PSP, recently named joint winner of The Green Award at this years' British Sign Awards in recognition of its sustainable practices.
"We've been looking at the eco agenda for over two years now, and we're had a great deal of support from CMYUK," says Nathan Swinson-Bullough, managing director.
"The UFabrik Eco materials print so well and install so easily. They are so impactful, and the fact that they're made from recycled bottles is fantastic. The fabrics print incredible on both our VUTEk and Latex machines," he says.
UFabrik ECO materials
Imageco will now be using UFabrik Eco FR designed for all its backlit/frontlit applications across retail, events and exhibitions. UFabrik Opaque Textile ECO FR will be used for all blockout and light management requirements, perfect for staging, events and exhibitions. UFabrik Wallcover Canvas Eco available in white and grey back is a sustainable solution for single piece wallcoverings, wallpaper, and staple wrap-around frames for stunning graphic walls for expos, events, corporate and home interiors.
Imageco has also adopted PVC-free Kavalan as a core product for its large banner and mesh. Swinson-Bullough adds, "We have created a bespoke and creative name for ourselves, but let's not forget the standard bread and butter work of banners and other products, when we print these, I want to use sustainable substrates."
The drive to green
Nathan's drive to a greener business was ignited just over two years ago, when he watched David Attenborough's matchless Blue Planet 2. "Seeing all that plastic in the ocean, I thought to myself as a business owner I've really got to address this."
Since then, Nathan has devoted a great deal of time evaluating new materials and technologies, considering how Imageco could improve sustainability both through its business processes and printed output.
In addition to the low power consumption of the LED-based EFI VUTEk GS 3250 LX Pro, which it purchased from EFI five years ago, Imageco installed two new HP Latex printers running water-based inks. Its RIP software and digital finishing capabilities ensure optimal materials usage, and the efficient use of ink.
The company has also signed up to the ISO 14001 Environmental Management System standard, which not only helps businesses become more environmentally friendly, but reduces wastage, manages compliance obligations, and is proven to help win additional business.
The bigger picture
Operating a print production facility that measures 30,000 sq.ft means that carbon emissions can be high. To counteract this, the company has installed a voltage optimisation device from Leeds-based Planet-U Energy, one of the fastest growing renewable energy companies in the UK. This is a proven energy saving technology that lowers the excess voltage by regulating the incoming power supply, enabling users to reduce their carbon footprint, extend the lifespan of business equipment, improve site efficiency and save money on energy bills.

This month, the company is installing a roof top array of solar panels. This will account for a third of the company's energy needs, it would have been more, but the company's roof was unable to host the volume of panels needed for 100% solar power. However, by the end of this year, all remaining energy will be generated from renewable energy solutions.
Nathan too, has invested in an electric vehicle, and is carefully tracking further developments in the national road electrification infrastructure to see how it can viably support the needs of a company that transports and installs print across the UK.
Imageco has also announced a new initiative with the Yorkshire Dales Millennium Trust. For every 10m of UFabrik canvas ECO wallcoverings printed, Imageco will plant a tree – with a target of 500 trees in the first year.
Says Nathan, "We have sourced the best high performing eco materials available on the market now, and our clients trust us enough to know that what we are offering continues our adherence to high quality, value-added service and our environmental ethos, to which we are highly committed."