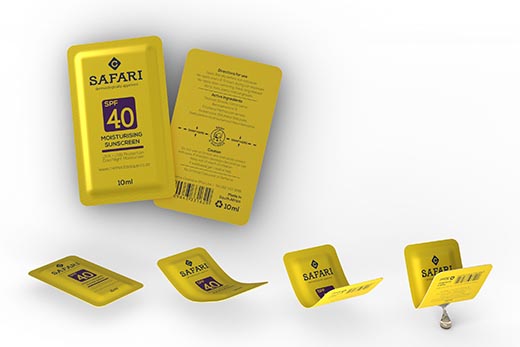 Simplified and hygienic dispensing of single-dose product using only one hand
Bologna, Italy – V-Shapes, an innovative supplier of vertically integrated products and services for convenient, hygienic and sustainable single-dose packaging, today reported that South African company EasyPack Packaging has acquired a V-Shapes ALPHA vertically integrated machine for the manufacture of single-dose sachets that can be opened with one gesture using one hand. In addition to producing hand sanitizer, the company also packages and exports food products, such as honey, peanut butter, grappa, olive oils – anything liquid to semi-solid.
"I have known the Burattini family for many years," Dr. Hennie du Plessis, CEO of EasyPack Packaging, states. "The Italians are the best at manufacturing packaging machines. So I turned to the late Antonio and his son Christian in 2005 to see if we could come up with a more convenient approach to a single-serve sachet. The need for this came to the fore after my wife broke a tooth trying to open a traditional small ketchup package!"
du Plessis, formerly working as a rocket scientist, has a background in chemical engineering and a doctorate in petrochemical chemistry. When Christian Burattini co-founded V-Shapes, inventing an innovative, patented and vertically integrated packaging machine that produces single-dose sachets, du Plessis was one of the first to jump on board. "We installed our ALPHA machine in 2018," he says, "we were the second in the world to have one. And it has been a huge boon to our business. With this six-lane machine, we can produce close to 350.000 single-dose sachets per day, a huge improvement over any packaging machine I know of for single-dose products."
The V-Shapes ALPHA machine has been a significant growth driver for du Plessis with existing customers. "But almost more exciting," he says, "is the ability to attract new customers. We are very busy talking with overseas customers and foresee at least one large customer that would keep two six-lane ALPHA machines busy full-time! That's how unique the offering is; and especially in this pandemic time, brands are seeking better and more hygienic ways to distribute their products."
One other point du Plessis makes about the V-Shapes sachets is that they can be completely filled, and the edges seal even if there is product contamination in the seal area. "The importance of complete filling not only ensures the exact dose is packaged, but it also eliminates the need for air head space required by other types of packaging," he says. "Depending on the product, adding air to the package can significantly reduce the shelf life and/or quality of the packaged product. You can also pack the same volume in a smaller space than with traditional sachets. And, of course, there is much less weight and space consumption than when using bottles. Plus, the floor space required to operate ALPHA is minimal. One salad dressing customer said her current single-serve packaging process requires six times the space required by ALPHA to produce the same amount of product!"
du Plessis concludes, "the V-Shapes solution is in a class of its own, a different league. There is nothing else out there in the market that compares."
To read the full story and learn more about products and services from V-Shapes, visit www.V-Shapes.com.