Musculoskeletal sensors used to enable visual representation of posture and stability retention based on rapid, high-precision quantification of minute misalignments of the upper-body axis as well as shoulder elevation.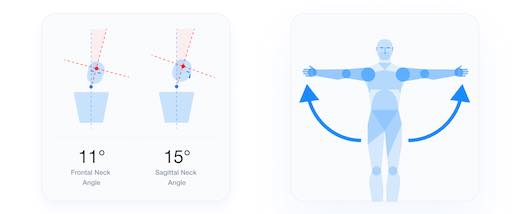 ©Toppan Printing Co., Ltd.
Tokyo – Toppan Printing (Toppan), a global leader in communication, security, packaging, décor materials, and electronics solutions, and FIGUR8 Inc. (FIGUR8), a U.S.-based spin-off company of the MIT Media Lab specializing in musculoskeletal (MSK) health diagnostics using movement as a biomarker, have developed a new service that uses musculoskeletal sensors to assess misalignment of the upper body. The two companies intend to launch sales of the service in fiscal 2022, targeting the fitness, rehabilitation, and sports industries.
Toppan and FIGUR8 have been collaborating since February 2020 on the development of services that leverage data on the bodies of individual users. Initiatives have included pilot testing focused on providing the online fitness industry with physical training plans for functional improvement matched to each individual based on movement data.
The economic impact and increase in medical costs associated with musculoskeletal complaints and conditions has garnered attention in recent years. These complaints include stiff backs, necks, and shoulders; sprains, pulled muscles, ligament and tendon strains and damage, and other sports injuries. However, due to constraints of time, place, and cost, it has been challenging to provide a tailor-made service matched to the condition and improvement targets of each individual patient.
In addition, a large number of patients with musculoskeletal complaints present with such problems as misaligned body axis or asymmetry associated with excessive muscle tightness. When such patients undergo long-term physical therapy or rehabilitation, indicators for assessing progress are complicated, and it is difficult to determine whether the service is optimal and effective.
To address these issues, Toppan and FIGUR8 have developed a service that visualizes posture and stability retention based on high-precision quantification of minute misalignment of the axis of the upper body and elevation of the shoulders. Assessment is not constrained by time or location, meaning it can be performed in a short time in a face-to-face or online setting or a combination of the two.
Assessment is conducted by attaching motion sensors above the ears and below the neck and musculoskeletal sensors to the biceps of both arms. The test subject maintains a seated or standing posture for 15 seconds, and their ability to remain stable is recorded. The person's endurance is then measured by having them hold their arms out horizontally to the side while standing for 15 seconds.
"We are delighted to be working with FIGUR8 on creating an environment that will enable service providers to offer optimal personalized solutions based on appropriate, easy-to-understand indicators," said Shu Tanabe, manager of Business Creation in Toppan's Business Development Division. "We intend to add assessment of lower-body function, such as flexibility, mobility, and stability, and will continue to drive the use of musculoskeletal sensors to facilitate functional assessment and the development of training programs that teach people how to alleviate excessive muscle tightness."
The newly developed service will be on display and demonstrated in the Toppan booth (8-91) at the Japan Sports Week exhibition, which will be held at the Makuhari Messe convention center in Chiba, Japan, from February 24 to 26.
About FIGUR8
For more information, visit https://figur8tech.com/.