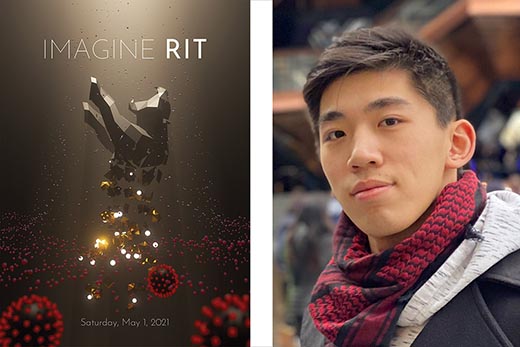 The poster for the 2021 Imagine RIT: Creativity and Innovation Festival was designed by Luke Chen, a second-year new media major from Fuzhou, China. The festival will be held virtually this year, on May 1.
An image showing a tiger emerging from an ocean of pandemic, climbing toward a ray of light, has been selected as this year's poster for the Imagine RIT: Creativity and Innovation Festival, to be held virtually beginning at 10 a.m. on May 1.
The poster was designed by Luke Chen, a second-year new media design major in the College of Art and Design, from Fuzhou, China.
More than 7,000 votes were cast for the more than 50 entries this year. A panel of RIT art and design faculty members weighed in on the top vote getters, and RIT President David Munson selected the winning poster from the five finalists.
Chen will receive $500 in Tiger Bucks.
"When I made my poster, I wanted it to represent that this Imagine RIT is going to be special because of the ongoing pandemic," he said. "This is not only representing that we emerge from the pandemic, but also that even after this pandemic is over, the world is not going to be the same as before. So, as the COVID generation of students, we are crossing over from one world into another."
Chen, who also entered the poster contest last year, made the winning poster for his new media 3D class last semester.
"My professor made it our final project," he said. "Although I would probably still enter regardless, I am kind of glad that he did that because this 3D poster came out very successful – I mean, I won! If I did it on my own, I might not be using 3D."
Chen said he was "pretty confident" in his poster this year, "but there were some other really amazing submissions besides mine."
Last year's Imagine RIT festival was canceled due to the COVID-19 pandemic.
The festival, which has attracted nearly 300,000 visitors since it was first held in 2008, is a campus-wide event that showcases the creative and innovative spirit of RIT students, faculty, and staff. Visitors are typically welcomed to experience the breadth and depth of RIT through interactive presentations, hands-on demonstrations, live performances, exhibitions, and research projects set up throughout campus.
The premier sponsor for this year's festival is Rochester Regional Health.