Fremont, Calif. – Electronics For Imaging, Inc. recognized its top-performing Fiery® dealer partner, Beaverton, Oregon-based Pacific Office Automation, for its growth and success helping customers achieve their goals using EFI Fiery digital front ends (DFEs) and digital print workflow solutions.

EFI recognized POA as its Dealer of the Year, in appreciation of the dealer's superior sales, technical support, and customer service. POA represents EFI Fiery solutions for digital production and office printers from Canon®, Konica Minolta®, Kyocera®, Ricoh® and Sharp®.

"It is great to partner with a company that allows our customers to be innovative in their business," said Doug Pitassi, president, Pacific Office Automation. "We see EFI as the most consistent and efficient Digital Front End in the market. We are honored to partner with such great technology."

Many enterprises, in-plant CRDs, and print-for-pay businesses rely on POA's comprehensive solutions offering to advance their production printing capabilities. Those customer engagements often include implementations of EFI's newest Fiery DFE solutions, which help users achieve higher total throughput, better color management and streamlined job preparation for fewer errors and less waste in cut-sheet digital production printing.

POA also helps customers implement additional, advanced solutions that further automate print production, including EFI MarketDirect StoreFront software for easy-to-use, robust web-to-print ordering and eCommerce, and new EFI IQ™ cloud solutions that help users extract value from data to minimize bottlenecks and optimize equipment utilization.

"POA is a highly resourceful and innovative partner that goes the extra mile to ensure that its customer base of enterprises and print production operations have the most efficient digital capabilities," said Toby Weiss, senior vice president and general manager, EFI Fiery. "Even given the challenges faced in 2020, POA continued undaunted with providing superior service, sales and support for EFI Fiery solutions, helping customers achieve even greater profitability, higher quality and better value in digital printing."

For more information about high-quality, Fiery Driven™ digital production printing, visit www.efi.com.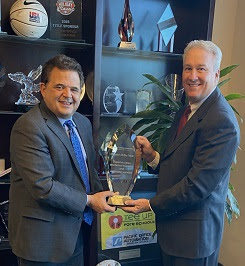 Pacific Office Automation President Doug Pitassi (left) receives the EFI Fiery Dealer of the Year Award from EFI's Jay Knudson