Minnesota firm expands unique box making capabilities

· Loyal customer praises Kolbus sales, service, and training to form close partnership
· Newest machine eases bottleneck as orders surge
· AutoBox AB 300 machine produces more than 100 different box styles with quick set up and high accuracy

With more than a decade in business, Advantage Corrugated & Packaging, a Hopkins, MN manufacturer and distributor of boxes, is continuing its expansion and growth with a third machine from Kolbus America in three years—an AutoBox AB 300. The firm, which caters to customers who need cost effective, short and medium run manufacturing for their specially-sized corrugated shipping containers, industrial packaging, and point-of-sale, signed the contract in December 2020 and will install its newest investment in early February 2021.

Headquartered outside of Minneapolis, Advantage has assembled a diversified base of customers within the state from the manufacturing industry, to printers, and corrugated brokers. The firm is sought after for its excellent product, integrity, and fair pricing.

"We offer a wide array of capabilities and solutions to our customers who require cardboard corrugated packaging," says Dave Poboisk, president of Advantage Corrugated. "Our team of employees manufactures everything from small boxes to extra-large boxes many of which do not fit the capabilities of our competition. The new Kolbus machine has the ability to run as large a corrugated sheet as our raw material manufacturer can produce."

The new Kolbus AutoBox AB 300 machine provides Advantage with the flexibility and versatility to produce more than 100 different box styles from one panel folders to extra large containers. It is the only machine on the market that can set itself in less than one minute from one job to the next. Operators appreciate its user-friendliness due to its capability of automatically changing box styles and sizes with a touch screen. No tooling is necessary; Advantage operators just input the job that they want to run and the AutoBox sets itself in seconds.

"Due to the wide variety of box jobs that come to us, we rely on the Kolbus AutoBox to enable us to turn a specialized job from layout to conversion in a very timely manner," says Poboisk.

Advantage purchased its newest AutoBox machine in December 2020 after having installed the Boxer and Pro-Gluer in 2017. While the firm has seen an upward trajectory since it opened its doors in 2009, the current pandemic and the growth of e-commerce has certainly boosted box production due to the need of manufacturers to utilize corrugated boxes to send products.

Poboisk stresses the importance of buying a machine directly from the manufacturer as opposed to a middleman, dealer, or reseller. He notes that the machines, parts, and service cost less than if purchased from a dealer or reseller. In addition, he says, the sales and service department is composed of factory-trained teams with lots of product knowledge. Finally, says Poboisk, response time for parts and service is quicker when dealing with the factory.

"We didn't look at any other manufacturers," says Poboisk. "Kolbus America has been a wonderful partner to our company. Everyone on its staff—from the sales, technicians, ordering, and training---are good people. When we need something, they jump. When we have a question, the support staff quickly answers it. Kolbus is a very ethical, receptive operation that has been one of the important reasons that our business keeps growing. A special thanks goes out to our customers, employees, vendors, and sales people. Without them, this purchase could not have been made."

Poboisk has taken his life-long experiences—a University of Minnesota business degree, law school admittance, and years working at other box manufacturers---to create a successful business in a unique niche. His success, in part, is due to being centrally located in the Twin Cities for quick and economical deliveries as well as the team he has assembled.

"We are pleased with our partnership with Advantage Corrugated," says Art Crawley, the Kolbus America sales manager who works directly with Poboisk. "Advantage's success is our success."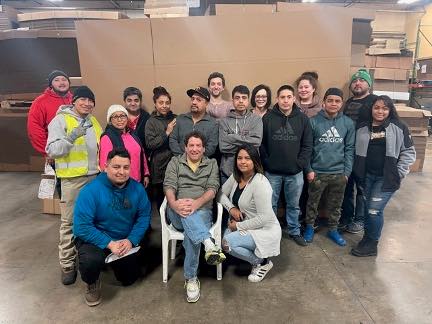 Dave Poboisk, president of Advantage Corrugated (sitting), and his team are eager to begin using their new AutoBox AB 300 machine from Kolbus America.