Matthews, N.C. – Fisher Textiles, the leading supplier of fabrics for digital printing, has added GF5019AM Symmetry Plus, an enhanced IFR and antimicrobial treated version of the popular Symmetry stretch fabric to its Grand Format lineup for dye sublimation printing.
GF5019AM Symmetry Plus is made with inherently flameretardant yarns, meets NFPA 701 and is excellent for indoor signage and tension fabric display applications.
It also makes a great PPE gaiter fabric because of its soft hand, stretch and antimicrobial properties, providing the ultimate comfort and freshness to wearers.
GF5019AM Symmetry Plus is 90% Polyester, 10% Spandex, weighs 5.0 oz/yd 2 (17.5 oz/lyd) and is stocked in 126inch-wide rolls.
Contact Fisher Textiles at 800-554-8886 or visit fishertextiles.com for more information.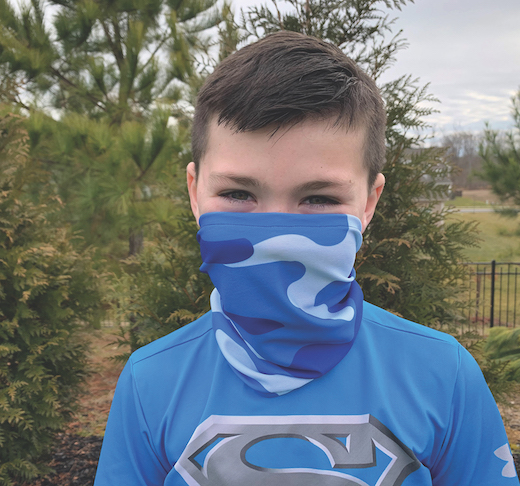 PPE gaiter made with Fisher Textiles' GF5019AM Symmetry Plus fabric.