Minneapolis, Minn. – ChromaChecker Corporation, creator of worldwide ChromaChecker Color Conformance platform, is excited to announce ChromaChecker Nano, a remarkable new hardware and cloud based software combination, that measures both color differences and surface characteristics. Collaboratively created by developers from ChromaChecker and Colorix, the ChromaChecker Nano was designed to simplify the complex process of measuring color appearance.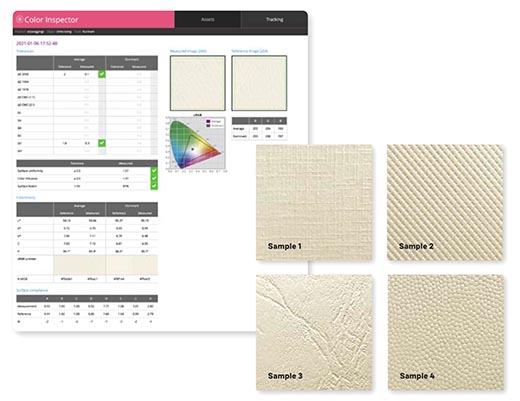 Identical color substrate with different embossed patterns recognizable by Nano, with or without printing applied.
ChromaChecker Nano works by uploading appearance parameters to the ChromaChecker Cloud, analyzing the material, and reporting results, to the brand, to ensure the color quality manufacturing was performed accurately. Thanks to its dynamic aperture, ChromaChecker Nano can measure any size objects very quickly. ChromaChecker Nano can be used to perform surface analysis on most materials, including uneven surfaces. No matter the product and no matter what it is made of, ChromaChecker Nano can measure any object and ensure the color and appearance attributes match.
ChromaChecker Nano's functionality is unparalleled and unlike anything else in the marketplace. Rather than simply measuring color, it can measure the texture of anything from paper to plastics to product textiles. By measuring up to five parameters, ChromaChecker Nano assesses not only a color but also an appearance match. By measuring surface characteristics that affect appearance, and analyzing average and dominant color, ChromaChecker Nanoliminates subjectivity to generate a result that closely resembles what the human eye perceives. The solution tracks numerous metrics and provides real-time performance reports.
CUSTOMER QUOTE
ChromaChecker allows our organization to use one Color Cloud to assess our suppliers manufacturing capabilities related to our product, and our print packaging without any one having to travel.
Like all other ChromaChecker solutions, the ChromaChecker Nano was designed with customer satisfaction in mind. By offering a ChromaChecker Nano IOS mobile application, ChromaChecker puts high-quality color and texture match technology in the palm of your hand.
ChromaChecker is exploring future projects and innovations every day. To learn more about ChromaChecker Nano, watch Nano Paper Texture Assessment video.