Packaging and specialty products segment achieves 40% greater efficiency with new press and continues rapid growth as pandemic forces retailers to online sales
Revenue from Packaging and Specialty Products segment increased by 10% as a result of growth in ecommerce packaging
Designing and developing new packaging solutions to save shipping costs and showcase brands.
Half a million per month production of n-flute for food and cosmetic customers posting a five-fold increase
During the previous year, Montreal-based SupremeX, a manufacturer of business envelopes labels and packages with sales throughout North America, relied heavily on the speed and extra capacity from its new fully-automated UV-equipped 41", seven-color Koenig & Bauer Rapida 105 PRO. As demand from its business customers involved in ecommerce rapidly accelerated during the pandemic, SupremeX saw a sharp increase in demand for packaging materials to deliver these goods.
"Organic growth came primarily from new ecommerce packaging customer relationships we have been developing over the past several months," said Stewart Emerson, president and CEO. "Our main growth driver in 2020 was our Packaging and Specialty Products segment. Growth came primarily from new subscription-based ecommerce packaging customer relationships that we've been developing and nurturing."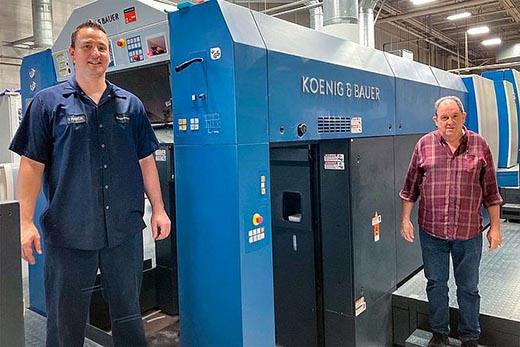 (Left to right) The team at SupremeX includes Yanick Dumais and Jacques Michaud next to the firm's new fully-automated seven-color Koenig & Bauer Rapida 105 PRO
Efficiency and throughput boosts
"Having our new Rapida 105 PRO gave us 40% extra efficiency and throughput and helped us to deliver these orders," says Islem Yezza, vice president and general manager at SupremeX Folding Carton. "We have increased our output exponentially each month with the new press; we are a growing company."
N-flute cardboard, which SupremeX uses for many of its food and cosmetic industry customers, saw a five-times higher use, says Yezza. The firm was able to expand its n-flute printing to at least 500,000 sheets on the new Rapida 105 PRO, producing an incredible half-a-million n-flute each month.
Top-notch local Canadian service team's approach
"Our team at SupremeX is the best in the industry," says Rob Young, who joined SupremeX as president of its packaging division. "We recently received an AA accreditation for its BRCGS packaging certification for food safety and were awarded the EcoVadis Silver CSR medal, both of which are a testament to our quality and process. The team has worked extremely well with the Koenig & Bauer team. Koenig & Bauer's local Canadian service team offers a complete program of expert training, production support, and applications."
"These customers are large e-tailers, with whom we work to optimize their packaging by designing and developing solutions that enable them to significantly save on shipping costs, while providing a more dynamic opening experience that better allows them to showcase their brand," Emerson says.
E-commerce packaging demand is growing
The pandemic has resulted in a permanent switch and strengthened e-commerce demand, says Yezza, and it will continue to be a key driver for SupremeX's business. The firm is continuing to grow its packaging platform through equipment investments like its Koenig & Bauer Rapida 105 PRO, which is accelerating its competitiveness and growth in the high-growth folding carton market.
"Ever since it was installed, our Rapida 105 PRO has contributed to our growth and enhanced our capabilities, quality, competitiveness, and added much-needed capacity. It turned out to be exactly what we needed during this unforeseen pandemic and has operated as a top-notch best of breed press," Emerson adds.