Design made publicly available following development based on research using Fugaku supercomputer.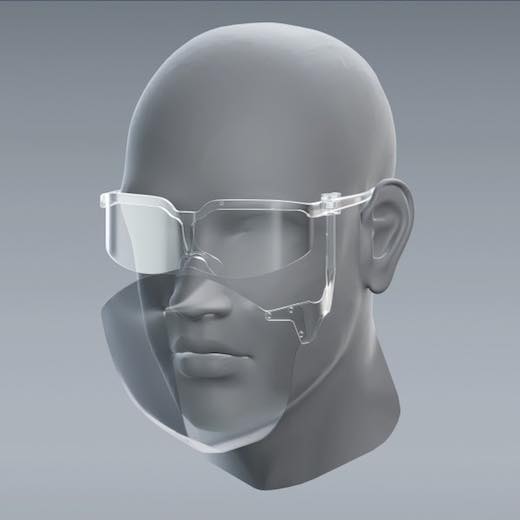 Conceptual image of the finished face shield
Tokyo – Toppan Printing (Toppan), a global leader in communication, security, packaging, décor materials, and electronics solutions, and Suntory Liquors Ltd. (Suntory Liquors), a subsidiary of Suntory Holdings Ltd., a global leader in both the alcoholic and non-alcoholic beverages industry, have released as open data the design for face shields specifically for eating and drinking. Anyone with a 3D printer and suitable material will now be able to produce the special face shields developed to help overcome the challenges of the COVID-19 pandemic.
The face shields have been developed based on findings of research using RIKEN's Fugaku supercomputer, which is scheduled to begin full operation in fiscal 2021. Toppan and Suntory Liquors have leveraged scientific insights provided by RIKEN's research on prediction and countermeasures for virus droplet infection in indoor environments to devise a unique bowl-shaped design. The shield is worn like a pair of glasses, and the part covering the mouth can be opened and closed with a simple action when eating or drinking.
"Our brands have grown into what they are today thanks to the food service industry. Together with restaurants and bars, Suntory has contributed to cultivating the food and beverage culture in Japan and we have been considering how we can best support this industry which is one of the most heavily impacted by the pandemic," says Kenji Yamada, CEO of Suntory Liquors.
"We are very pleased to be making the face shield design available for anybody in the world to use. This adds to a range of activities by Toppan to provide solutions to challenges the coronavirus pandemic has presented, and we hope to contribute to wider society and help revitalize the food service industry," says Makoto Arai, Director & Senior Managing Executive Officer of Toppan's Information & Communication Division.
The design data can be downloaded from:
https://toppan-faceshield.jp/en/index.html
Finished face shields will be available for purchase from the Inshokuten-youhin.jp website (in Japanese) operated by Suntory Marketing & Commerce Ltd. Orders can be placed from December 21, 2020, and products will be dispatched from January 7, 2021 onwards. Quantity is limited.
*These face shields do not provide 100% protection from infection. Thorough measures to prevent infection, such as appropriate ventilation, hand sanitization, and distancing, are also required.
Learn more about Suntory Group, its brands, and its commitment to social responsibility at www.suntory.com, on Facebook, Twitter, Instagram, LinkedIn, and YouTube.
For more information, visit https://www.toppan.com/en/ or follow Toppan on LinkedIn https://www.linkedin.com/company/toppan-printing/.