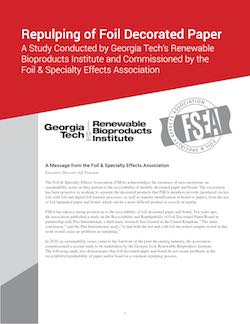 Topeka, Kan. – The Foil & Specialty Effects Association (FSEA) has released a new study on the repulpability of paper decorated with foil, produced in conjunction with the Georgia Tech Renewable Bioproducts Institute.
The association has been proactive in working to separate the decorated products that FSEA members provide (produced via hot foil, cold foil or digital foil transfer processes, as well as transfer metallized board or paper), from the use of foil laminated paper and board, which can be a more difficult product to recycle or repulp. Ten years ago, the association published a study on the Recyclability and Repulpability of Foil Decorated Paper/Board in partnership with Pira International, a third-party research firm located in the United Kingdom.
In 2020, as sustainability issues come to the forefront of the print decorating industry, the association commissioned a second study to be undertaken by the Georgia Tech Renewable Bioproducts Institute. The study demonstrates that foil decorated paper and board via foil stamping do not create problems in the recyclability/repulpability of paper and/or board in a common repulping process.
"Having an updated study on the repulpability of foil-decorated paper/board was of high priority due to continued questions on metallic decorating and sustainability," stated FSEA Executive Director Jeff Peterson. "We believe the release of this most recent study will help confirm that foil decorated paper/board is recyclable and repulpable."
For further information or to receive a copy of the study, contact FSEA at 785.271.5816 or email [email protected].

For more information, visit www.fsea.com.