Glendale Heights, Ill. – All Printing Resources (APR) has expanded its popular educational video library with a new twelve-part series on plateroom process control.
The video series is offered complimentary on APR's YouTube Channel and each of the segments runs approximately five minutes long. The first six episodes have been released and will be followed by six more. The series begins with a segment on the "Four Key Things to Measure" followed by an "Overview of Tools Used to Measure Platemaking." The next four episodes drill down into the specifics of using a transmission densitometer, UV light meter, micrometer and 100 power microscope.
The Plateroom Process Control series is hosted by Cayleigh Anderson, APR Director of Business Development. Cayleigh has extensive experience in the plate room having previously been a member of Esko's FIQ Team and as a color management instructor at Harper College in Palatine, Illinois.
According to Dave Nieman, President and CEO, "While technical videos on products and techniques are not new to APR, they have become even more important as a method to deliver critical educational resources during the COVID-19 pandemic. Cayleigh offers a technical and engaging approach to a topic that impacts every production floor. They are an important tool for any company that wants to optimize process control for their flexo platemaking."
To view the complete series on Plateroom Press Control visit the APR YouTube Channel at http://flexo.co/2TWjGan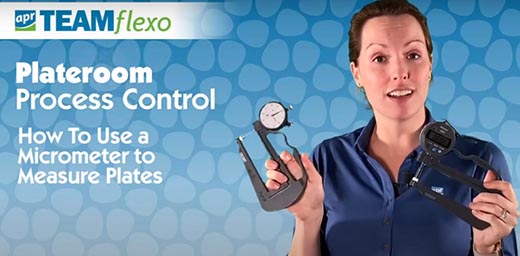 Cayleigh Anderson hosts APR six-part series on Plateroom Process Control.