Georgensgmünd – TroFilms GmbH, located in Georgensgmünd in Germany, a medium-sized and globally operating specialist for high-quality special laminating films for the graphic arts and industrial lamination industry, has initiated a comprehensive study to investigate the possibilities of refining laminating films using digital finishing systems.
The aim of this study is to evaluate and calculate the use of digital finishing systems in combination with the company's films. This provides the company's customers with a tool for planning orders technically and economically and for calculating and evaluating them already in the preparation phase.
Furthermore, TroFilms has set itself the goal of incorporating the findings from this broad-based study into the further development of its films and qualities.
This study applies to almost all films offered by TroFilms:
TroPROTECT-X
TroPROTECT GLOSS
TroTEMPTATION-X
TroTEMPTATION
TroPURELINE
TroLEATHER
TroWOOD
TroROUGH
Currently, digital finishing systems from Scodix, Steinemann, Konica Minolta, Duplo, Ecosystem and Komfi are in the test phase. If the systems also have a metal foil application option, this will also be tested and evaluated in combination with the TroFilms laminating films in addition to the pure lacquer application.
Ralf Troyer, Managing Director of TroFilms GmbH on the study: "The global trend towards digital finishing solutions has been noticeable for years now, and order volumes are on the rise. But since, according to our knowledge, there is no comparable study worldwide on the interplay between printing, film lamination and digital coating and metal foil application available to guide the market and thus our customers, we knew that we would have to realize this by ourselves. To do so, we deliberately went through all the usual production processes in order to realize this study as realistically as possible. Together with our project partners, we therefore produced dedicated print sheets in offset, laminated them with our wide range of film qualities and then finished the sheets using the respective digital finishing systems. All production parameters used were recorded, possible problem areas identified and the results evaluated. Any necessary optimizations of the production parameters used in the finishing systems were also documented. The result is a very powerful tool for our customers, which will save them time and money and also enables them to plan and calculate complex finishing jobs more efficiently". Ralf Troyer concludes: "I would not like to miss the opportunity to thank all our project partners for their excellent cooperation, as without their support such a study could not have been realized".
Project partners of the study were:
Druckhaus Waiblingen – www.dhw.de
LamiFaktur GmbH – www.lamifaktur.de
Printlack AG – www.printlack.ch
Magdata Group – www.mag-data.com
Konica Minolta – www.konicaminolta.de
Ecosystem – www.ecosystemcostruzioni.net
Duplo – www.duplointernational.com
Komfi – www.komfieurope.com
The first two partial results of this study - Part 1: Scodix and Part 2: dmax - are now available and can be found on the company's website or by contacting the company directly.
The tests show that all films from TroFilms can be perfectly processed with these two finishing systems and that there is no need to optimize the quality of the films for digital coating and foil application so far.
The tests on the four other finishing systems mentioned above are already in progress.
Further information is available at www.trofilms.de.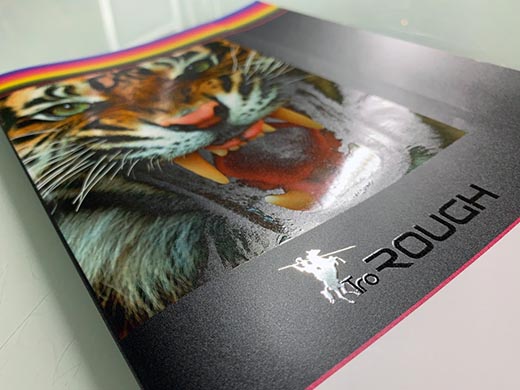 Even the brand new film quality TroROUGH with its sand-like, scratch-resistant surface has passed the tests excellently so far. The picture shows a silver foil application and partial gloss coating on a Scodix Ultra 202, realized at LamiFaktur GmbH.