Austin, Tex. – Propago, a marketing asset management software firm headquartered in Austin, TX, is known for consistent innovation in web-to-print. Two standout new features added to their platform this quarter, Fixed Assets and Bulk Proofing, enable print providers to do more for their customers and become stronger partners.
With Fixed Assets, Marketers Can Book Reusable Assets like Furniture and Equipment
Fixed Assets brings to the Propago Platform an entirely new type of service for print providers to offer their B2B customers. This is a new type of product on the platform that can be booked out and then returned like a rental service.
Print providers can use Fixed Assets to facilitate the booking, shipping, and returning of reusable assets that their customer owns like furniture and event gear. End users can go to their marketing portal, see what items are available and when, and book the items they need for a specific timeframe.
"Fixed Assets is exciting because it expands the already broad list of types of products that producers can support using Propago," says Rick Aberle, CEO of Propago. "Propago is designed to enable producers to be a one-stop-shop for marketers. This new feature adds reusable, owned assets like TVs and furniture to the customer's portal, making the catalog even more comprehensive."
With Bulk Proofing, Marketers Can Quickly Order Many Versions of a Personalized Asset
The number one goal of any web-to-print platform is to make ordering marketing assets as easy as possible. Bulk proofing, introduced to the Propago Platform this quarter, pushes this goal further. Proofing personalized products has always been a strength of Propago due to thoughtfully designed workflows and a user-friendly interface. Bulk proofing takes it up a notch by enabling users to proof many versions of a product with a single click.
If a portal user wants to proof 50 versions of a business card with 50 different employees' information, they can use Bulk Proofing to generate all 50 proofs by uploading a spreadsheet. This time-saving feature turns the task of ordering personalized assets for whole teams from tedious to snappy.
Fixed Assets and Bulk Proofing are just two of the many novel features that have been added to Propago over the months. Innovation is at the heart of the ethos of Propago.
"We never stop looking for ways to make marketing asset distribution easier," says Rick Aberle, CEO of Propago. "In a market that's rapidly evolving, it's more important than ever for print providers and marketers to utilize technology that adapts to changing needs. By listening to our current customers and constantly working on new additions and enhancements to the platform, Propago stays at the cutting-edge of web-to-print."
Learn more about Propago: https://propago.com/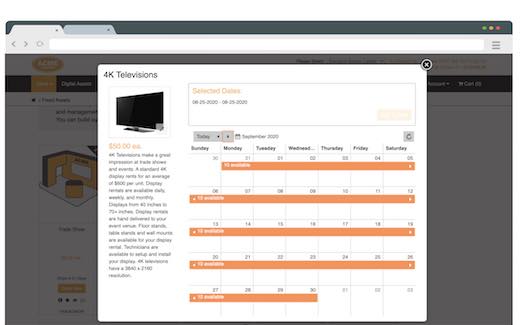 Propago's Fixed Assets feature enables marketers to schedule usage of reusable marketing assets like event equipment.