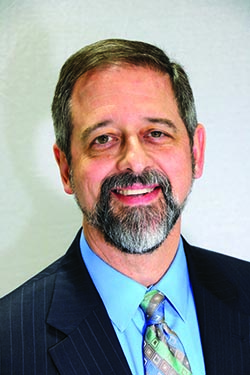 Steve Johnson—media communications veteran, digital print evangelist, arts enthusiast, polymath, autodidact, literacy booster, and unabashed cheerleader for writing, books, and print—brings his popular monthly "Johnson's World" column to WhatTheyThink magazine. The column had run in Printing News—which merged with WhatTheyThink in 2018—from 2011 to 2017.
Johnson is the founder, president, and CEO of Copresco, a digital on-demand printer of books, manuals, and publications located in the Chicago area. Johnson brings to "Johnson's World" his more than 40 years of experience in the graphic arts. "I'm in the trenches with my readers," said Johnson, "and that gives me a unique point of view." Johnson describes the column—which has won APEX and STC awards—as "often humorous, always insightful, usually probing, but never malicious," stressing that it offers "iconoclasm without cynicism." "I delight in presenting the heterodoxical point of view," Johnson said.
"I really am looking forward to working with WhatTheyThink, because I've been reading you for so long," he said. "I have this reputation as a print cheerleader—and I am—but some people think that I am opposed to digital media. Nothing could be further from the truth."
Prior to founding Copresco in 1987, Johnson had been employed in widely varied roles at such diverse graphic arts firms as Meriwether Publishing, DeLuxe Poster Corp, Team Custom Printing, Business Cards Tomorrow, and PDQ Copy Service. He was a founding member of the Digital Printing Council of the Printing Industries of America and has also served on PIA's Sales & Marketing Executives council. He served on the board of directors of the Printing Industry of Illinois/Indiana Association and has been a member of the finance committee. He has been honored as a senior member by the Society for Technical Communication.
"We couldn't be more thrilled to have Steve's column back in WhatTheyThink's Printing News & Wide-Format & Signage editions," said Kelley Holmes, VP and Group Publisher. "He really brings a unique and valuable perspective to the industry."
"Johnson's World" will start appearing as of the September 2020 print edition.
About WhatTheyThink
WhatTheyThink is the printing and publishing industry's leading media organization, offering a wide range of publications that deliver unbiased, real-time market intelligence, industry news, economic and trend analysis, peer-to-peer communication, and special reports on emerging technology and critical events. Special interest sections include Economics, Wide-Format & Signage, Labels & Packaging, Software, Print Finishing, Textiles, and Industrial Print. WhatTheyThink hosts webinars and live events as well as providing content through a syndication program, delivering content directly to related websites. In addition, WhatTheyThink offers a wide range of lead generation and branding programs that help print- and publishing-related companies achieve business growth. For more information about partnering with WhatTheyThink, contact Eric Vessels at email: [email protected], Kelley Holmes at email [email protected] or Paul Zimmerman at [email protected].