Oosterhout – In reaction to the good results achieved with the existing press automation solution of Q.I. Press Controls (QIPC), the printing company Gmähle Scheel Print Medien has now upgraded to mRC-3D. Gmähle Scheel Print Media is part of the Wurzel Medien Gruppe, a full service provider that delivers solutions for all media. The upgrade is for their web offset division in Schwabisch Hall.
Convincing performance
Already back in 2007 Gmähle Scheel Print Media made its first investment in the QIPC's colour and cut-off register system. Over the years the performance has been excellent. The expected improvements in printing quality and savings in waste have been realised. The upgrade to QIPC's mRC-3D was therefore self-evident. The mRC-3D colour- and cut-off register system will be installed on one of the three '8 page' KBA Compacta 101. Their web offset process enables them to print all sorts of media for third parties, like leaflets, magazines, catalogues and leaflets varying in circulation.
Jürgen Hauber, Plant manager at Gmähle Scheel Print Media: "Most important for us is to deliver high quality print to the satisfaction of our customers. The solutions of QIPC support us in delivering just that."
For more information: www.qipc.com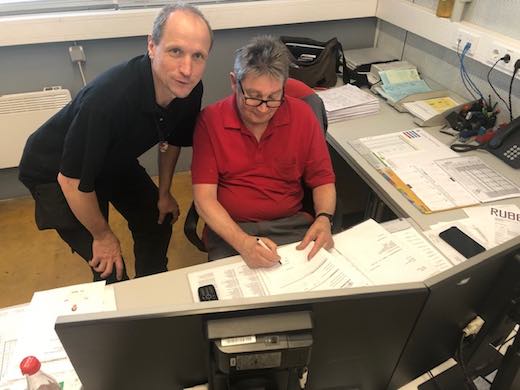 Jürgen Hauber, Plant Manager Gmähle Scheel Print Media, signing the acceptance for the new mRC-3D installation executed by QIPC's Service Engineer Antoon Stoffels