Brookfield, Wis. – Xitron, a developer of intuitive, productive and affordable prepress software and RIP products, developed the user interface (UI) for Colordyne's 2800 Series AP – Retrofit. Colordyne is the first OEM working with Xitron to develop a UI for label and tag production systems using Memjet's DuraFlex printhead technology.
The 2800 Series AP – Retrofit UI delivers an intelligent, straightforward operating system consisting of intuitive buttons for ease of use, variable data capabilities and fast RIP speeds to maximize the engine's efficiency. While using the software, all of the applications are available on a single screen eliminating the need to open multiple windows. This new, user-friendly UI is also web-based, which allows for easy access from remote working and support locations.
"Colordyne provided continuous feedback during the development of the 2800 Series AP – Retrofit UI including testing and change requests for the application interface," said Karen Crews, President of Xitron. "This experience has strengthened our partnership with Colordyne, and we look forward to continuing our successful business relationship."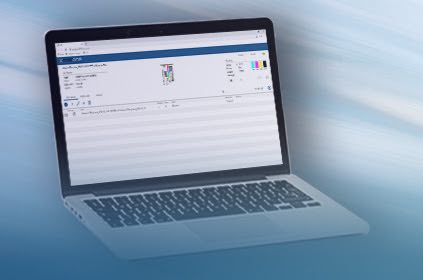 2800 Series AP - Retrofit User Interface Homepage
The UI development for the 2800 Series AP – Retrofit, Powered by Memjet, is different than past projects because Xitron not only provided the direct front end (DFE) but also engine controls. This means that through the UI, users receive real-time feedback during engine performance and can access job information including image resolution, printer state, color matching and more.
"Our strategic partnership with Xitron allowed us to speed up the software development process," said John Urban, Engineering Director of Colordyne. "Xitron worked directly with our team to create and deliver a UI that fits the needs of the 2800 Series AP – Retrofit and our customers. The Colordyne team provided the technical specifications and software testing to support a collaborative design effort. We are happy with how the UI turned out and look forward to future projects with Xitron."
The new UI is also easily brandable for Colordyne SIPs integrating the ChromaPlex LT print engine into their presses and print solutions. This makes the UI instantly marketable by SIPs. Currently, Colordyne and Xitron are working together on customized solutions and next-generation projects coming to the market soon.
Working together since 2013, Colordyne and Xitron combine their expertise and customer-focused approach to develop, test and bring products to market with productive UIs. Along with the 2800 Series AP – Retrofit, Xitron's DFEs with spot color matching also drive Colordyne's 2600 Series and 3600 Series digital inkjet presses. Aftermarket solutions for the 1600 Series C and 1800 Series C models are available as well.
With over 30 years of experience in prepress RIPs and workflows, plus eight years focusing on DFE software, Xitron provides in-depth engineering and support resources, from specifications to development, for a variety of Colordyne's digital inkjet solutions.
Visit www.colordynetech.com for additional information. For more information about Xitron, visit us at www.xitron.com.