With its extensive product offering, Truyol looked to the Jet Press 750S to help drive forward its high-quality print offering
Truyol, based in Alcorcón in the south-west of greater Madrid, is a print business that has set the benchmark for the Spanish digital printing industry. The company offers a wide variety of products and services – from large format printing, to book covers and packaging. Founded in the 1983 as a photography and photocopying store, Truyol is a family-run business which has grown from a very small team into a huge workforce operating a range of print production equipment. Joaquin Truyol, the CEO of the company, has seen the business emerge from its early roots – when it was run by his parents – into a thriving, all-encompassing print-service-provider. The company's ethos is to continue growing itself and its offering to the industry; with this comes a need for equipment that can not only handle high levels of production, but also produce excellent quality and consistency. Truyol has turned to the Jet Press 750S for these very reasons.
"Truyol has quite a history," says Joaquin. "The company started with a small store in Alcorcón and introduced the first electrostatic paper copier in the Madrid area, and then the first colour copier shortly after that. We evolved quickly and were able to offer an ever-increasing range of printing services, on various substrates, for multiple sectors.
"Our R&D department maximises the use of Truyol's technology, combining materials, print stocks, inks, finishes and processes to produce the most innovative, high quality products for our customers.
"We have seen a 30% annual growth over the last decade and our site is now 7000m2 in size, housing 150 pieces of equipment and 150 staff – all of which helps us to fulfil our customers' requirements 24 hours a day."
Despite his company's remarkable recent growth, Joaquin identified a need to invest in more equipment to produce ultra-high quality print work. Fujifilm's Jet Press 750S, installed in early 2020, was brought in to meet that requirement. "We always strive to innovate and do anything we can to create new opportunities," continues Joaquin. "We know we are providing an excellent service for our customers, but we always want to push the boundaries here, and the Jet Press is already helping us to do that."
Joaquin became aware of the Jet Press three years ago and is delighted to now have it as part of Truyol's printing arsenal. "Fujifilm invited us to visit its facilities in Brussels to see the printing equipment they had to offer. It was there that we were first introduced to the Jet Press. Since that time we've kept a very close eye on it, as it was clear this machine's high production capabilities, simple operation and great attention to detail were exactly what we were looking for."
Truyol acquired the Jet Press 750S in January 2020, and already the third generation B2 inkjet press has impressed Joaquin and his team. "Inkjet is a technology we firmly believe in, and with the Jet Press we have further increased our diversification with different print suppliers. We are already very impressed by what we've seen in terms of the print detail and the uniform backgrounds it can produce, and because of this we rely heavily on the Jet Press for our high-quality print jobs."
Truyol is yet to maximise the full potential of the Jet Press due to the ongoing impact Covid-19 is having on the industry and the wider economy. Joaquin is confident however, that his business will come out stronger once the situation stabilises. "The current pandemic has led to a downturn in production for us – much as it has for the whole industry – but we are very confident in what the Jet Press is capable of in terms of productivity and quality, so in time we will be able to fully maximise the benefits it has to offer.
"In fact, we are still optimistic that, with our innovative thinking, we will emerge from this situation with new solutions and contributions for our customers. But right now, it's vital we have suppliers who we can rely on and who can help us through this difficult period. We are a brand new Fujifilm customer and have chosen a challenging time to start working with them! They have been there for us since day one and we have been in regular contact with them throughout the lockdown – this support is extremely valuable to us and we look forward to seeing how our relationship can grow in the years to come."
Joan Casas, Manager, Fujifilm Graphic Systems Spain says: "We're delighted to see the Jet Press already playing such a key role in driving forward Truyol's high-quality print business. The company has undergone huge challenges in recent months, as has the whole industry, but we are delighted that we can support them through this difficult time, and we look forward to helping them discover the full potential of the Jet Press as production levels start to return to normal."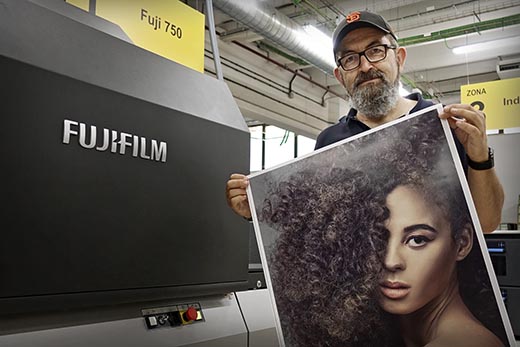 Joaquin Truyol, CEO, Truyol.