Solimar Systems, Inc., provider of leading workflow solutions for print production and digital communications, has today launched Secure IPP Print Server™ for digital print environments. The server delivers support for encrypted data transmission using the Internet Printing Protocol (IPP) in addition to enabling print job optimization and workflow automation. This flexible solution enables companies to better comply with data security regulations, policies and best practices including GDPR, the General Data Protection Regulation and CCPA, the California Consumer Privacy Act.
It is commonplace for host systems to transmit data to printers over unencrypted channels using protocols like LPR, IPDS, shared folders and JMF/JDF. Secure IPP printing leverages on-the-fly data encryption to protect print content from network "sniffers" that can expose sensitive information embedded in print data.
In addition, Secure IPP Print Server™ provides more granular feedback on job status than alternative workflows, allowing systems that support IPP to provide more accurate and timely information about the actual disposition of work.
"Governments have been busy tightening rules around the handling of consumer data to better protect the public against accidental or criminal data breaches. Everyone handling personal information has to be prepared to exercise reasonable caution to protect that information from disclosure risks," commented Jonathan Malone-McGrew, Senior Director of Engagement at Solimar Systems. "Secure IPP Print Server provides users with a means to do this, enabling them to operate with complete, end-to-end workflow security. The system also benefits from Solimar's renowned expertise in job tracking, reporting, as well as streamlining and reducing workflow inefficiencies, when integrated with other cutting-edge Solimar solutions."
For nearly 30 years, Solimar Systems has been delivering solutions to organizations that process high volumes of sensitive, personal data. These solutions provide mission-critical workflow capabilities in secure environments. They feature granular, rights-based access controls, as well as password-based document controls such as PDF encryption. Secure IPP Print Server leverages these reliable, comprehensive systems and incorporates new functionality to ensure an increased level of data security.
"The launch of Secure IPP Print Server is in direct response to our clients' requests for help to better secure digital content and documents in transactional and variable data print workflows," says Mary Ann Rowan, Chief Experience Officer at Solimar Systems. "At present, printing is too often vulnerable to gaps in end-to-end security. This print server can run as an automated, 'lights out' service, securing incoming and outgoing print data, providing governments, enterprises and print service providers around the globe with additional confidence in the security of their production processes."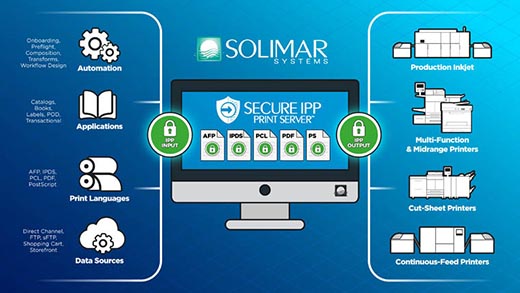 Solimar systems launches IPP server for digital print environments.