Planning and imposition optimization software available for HP Indigo users in labels, packaging and commercial print
Ottawa, Canada – Tilia Labs, Inc. (tilialabs.com), a leading developer of planning and imposition solutions for the graphic arts industry, today announced it is offering its Artificial Intelligence (AI)-driven software technology to boost productivity for HP Indigo digital printing.

Central to the collaboration with HP Indigo is Tilia Labs' flagship software tilia Phoenix. This is planning and imposition software that uses AI technology to reduce cost and optimize production in all print segments including packaging, labels, commercial, and wide format printing. Its AI-generated layouts eliminate the need for template-based imposition, instead dynamically adapting to manufacturing requirements and constraints – an innovation that earned tilia Phoenix a 2019 InterTech™ Award.

HP Indigo customers benefit from AI technology
Designed by Tilia Labs to be powerful and dynamic, tilia Phoenix's Imposition AI works quickly enough to keep up with the fastest presses on the market. For albelli of The Hague in the Netherlands, this means delivering automated, multi-lane impositions on-the-fly to their HP 50000 Digital Press - printing up to 770 duplex color/ 2300 mono pages per minute. By maximizing the entire width of the web, tilia Phoenix saves abelli ink and substrate costs without sacrificing time.

"We have many different kinds of products, all needing different formats and requiring different procedures from the operators," says Michael Koval, Software Engineer with albelli. "And the more types we have, then the more routes and procedures we have to build into the software. Supporting all that, of course, increases complexity… Performance-wise, Phoenix is better than anything else we have in house. It churns 10 gigabytes of PDFs per minute."
Cost-based planning and imposition
For the HP Indigo user community, the Tilia Labs partnership presents value-added opportunities in several key market segments including:
Labels & Flexible Packaging – Tilia Phoenix narrow-web label frame and lane optimization and automation; tilia Aries quick and easy, drag and drop layout creation
Folding Carton – Dynamic nesting and die generation, varnish / coating blanket creation, auto-calculated CAD-based step-and-repeat, intelligent artwork-to-dieline snapping, and die template library with pattern matching to find and re-use inventoried standing dies.
Commercial Sheet-fed – Dynamic imposition for flat and folded work, template-free just-in-time planning, cost-based evaluation of digital versus conventional, auto-calculation of creep compensation and lips, configurable binding edges, and custom folding patterns via an easy-to-use GUI tool or API.
Commercial Web-fed – Lane-batching AI algorithm optimizes commercial book work by balancing across multiple lanes to utilize the full width of the web, driving down material and click costs.
"With tilia Phoenix, HP Indigo users benefit from cost-optimized layouts and dynamic imposing on-the-fly. For the first time, print providers can accurately determine the breaking point between conventional and digital printing, maximize press time and materials, and instantaneously reimpose jobs as changes in the production environment dictate," says Tilia Labs' CEO Sagen de Jonge.
Built from the ground up to connect, tilia Phoenix can easily integrate with any workflow or MIS system to enrich job estimation, reduce time in planning, maximize press time, and reduce postpress complexity. Tilia Labs adds HP supported JDF output to streamline job submission to the HP digital front end.

"We are very excited to establish this powerful relationship with Tilia Labs, offering HP Indigo digital press owners innovation, efficiency and confidence for production challenges, including sophisticated ganging, device profiling and specialized imposition requirements. For print service providers these values translate to bottom line production cost savings and better utilization of their printing equipment," said Patrick Canfield, R&D Program Manager, Strategic Accounts, HP Indigo.
For more information visit: tilialabs.com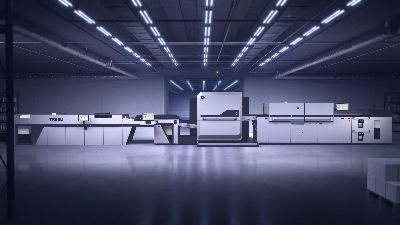 Tilia Labs solutions introduce unique capabilities for production planning, estimating and imposition that can be integrated with HP Indigo presses such as the HP Indigo 35k Digital Press for short-run folding carton.