Rapid expansion of comprehensive Fiery online education and virtual technology meets the need for print community to optimize print production

Fremont, Calif. – Electronics For Imaging, Inc. and its channel partners have responded quickly to these unprecedented times with extensive education programs leveraging Fiery® on-demand learning curriculum, Fiery Professional Certification, and virtual technology for print businesses, ensuring users of EFI™ Fiery digital front end (DFE) solutions are ready to re-engage with customers during the business recovery phase.

The magnitude of customer participation – which reached extraordinary levels – reflects the urgency of these programs. The high level of participation was made possible by the fact that EFI and its channel partners have more training resources in the field than any other provider of digital front ends.

An important, outsized effort to prepare customers for the new normal

"Even in difficult times, companies continue to invest in Fiery," said John Henze, vice president of sales and marketing, EFI Fiery. "Because of the extensive resources we have in the field and the breadth of our online eLearning programs, we have been able to accommodate the increased demand for these services as customers prepare to get back to work with even more productivity and cost efficiencies. It is one of the reasons hundreds of thousands of users around the globe have chosen EFI Fiery as their best DFE option.

"Even during the pandemic, our customers need a way to progress their business goals, and our sales support teams responded overnight to make resources available that could be accessed in spite of pandemic restrictions. This was a rapid response that few other companies could achieve. Our customers will be much better prepared to respond as restrictions are lifted and the economy embarks on a new normal."

EFI saw a fourfold increase in the number of new daily enrollments in Fiery e-learning courses through its [email protected] online training platform. Working at their own pace and schedule, customers have a choice of 274 interactive learning materials designed to help users drive greater efficiency, quality and accuracy in production digital printing. In addition, more than 8,500 users enrolled in the prestigious Fiery Professional Certification program, further expanding their practical knowledge of Fiery applications and tools.

One EFI Fiery partner participating in Fiery Professional Certification through the [email protected] platform, Tobias Flesch, Analyst and Consultant from one of the largest print production resellers in Germany, X-NRW, remarked, "This training initiative from EFI came just at the right time. I refreshed my Fiery Pro Certification and also completed the Fiery Expert Certification. Even though I thought that I knew the Fiery very well – I learned a lot about new software and options, which is really useful for customer demos and support. I have six other colleagues who are taking the Fiery Pro and Expert Certification."

EFI also offered a series of three webinars in May focused on helping Fiery users jump start their businesses. Access to webinar recordings is available at www.efi.com/wof.

Customized demonstrations drive new capability options

Print professionals can see Fiery DFEs and workflow software in action at a time when attending tradeshows or travel to demo centers has become difficult or impossible. To help offset the travel constraints hindering printing companies' ability to get first-hand knowledge on printer and software investments, the EFI Fiery team leveraged the company's Virtual Fiery cloud infrastructure to give customers hands-on experience with the Fiery DFE. Following a demonstration, customers can access a cloud-based Fiery at their convenience to test workflows and gain practical knowledge before they purchase.

Customized sessions delivered by EFI digital specialists, tuned to the unique challenges of each individual company in a one-on-one environment, give Fiery experts a way to answer customer questions in real time. And, with the Virtual Fiery interface, customers can also have the same experience as if they were standing in front of a printer or a Fiery server. This makes it easy for customers to learn how to take full advantage of their Fiery investment – or make the right decisions about new investments – to increase their productivity without any travel or safety risk.

"What a strong service!" commented one online demo participant, Thomas Poos, a Fiery user at Druckerei Maßen, a printing business based in Erkelenz, Germany. "Hats off and thank you for the interesting and informative session."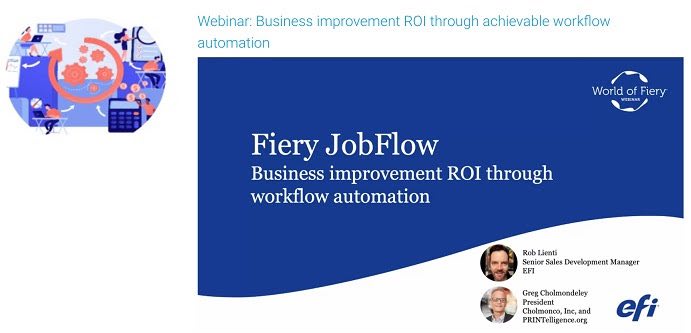 EFI's expanded Virtual Fiery demo, e-learning and certification resources include new, free webinars at efi.com/wof.