Spanish printing company, Sorma Ibérica is a true pioneer in the manufacturing of self-adhesive labels. Located in the Valencia area, the company has recently acquired a new Nilpeter flexo press.
The 14" wide flexographic printing press is part of the FA product line offered by the Danish press manufacturer. It is considered as one of the most modern and automated pieces of equipment within the label printing industry. Designed to produce high-quality labels and flexible packaging, the printing press stands out for its high level of automation, the superb printing quality and its ability to handle quick job change-over.
Antonio Tomás, CEO of Sorma Ibérica, explains why he continues to trust the Danish brand to expand Sorma's production line.
"The choice came given by the demands of our customers and the experience we already had with Nilpeter. It was the team that adapts to the current situation and responds to what we need. The market and our customers require us to manufacture sophisticated and high-quality labels in addition to printing guarantees."
A few months after the installation of the equipment at its facilities in Valencia, Sorma Iberica was asked if the equipment met their expectations.
"It has met our expectations, we did not expect any less. We have known Nilpeter for 20 years and do not doubt its quality. We are very happy with the new printing press, it is a great machine that gives us a lot of security. We feel like a part of Nilpeter - it is a serious and professional brand. We trust the brand and after the experience we will continue to trust."
At such a delicate moment for all companies due to the Covid-19 crisis, Esagraf, Nilpeter's agent in Spain, specifically thanks Sorma Ibérica for their trust placed in our team during all these years.
"We highlight their great work and professionalism in the printing industry and we look forward to continuing to accompany them for a long time."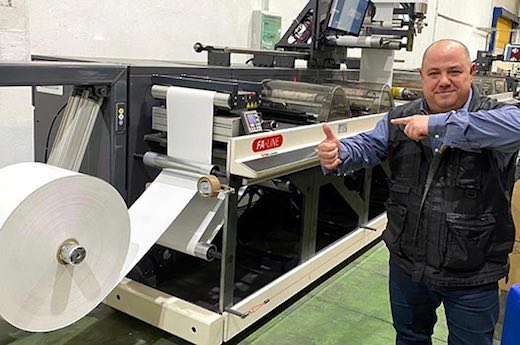 Antonio Tomás, CEO of Sorma Ibérica, with the new Nilpeter FA-14..