Rolling Meadows, Ill. – Komori America — TEAM Concept Printing, a full-service trade printer based in Carol Stream, IL, has purchased a six-color Komori Lithrone G40 (GL640) press to meet the demand of a growing customer base that is asking for more sophisticated packaging applications. Komori's GL640 is TEAM Concept's third Komori press and represents a significant milestone in the company's carefully planned growth strategy.

"We understand the importance of being in the 40-inch market. It is important for us to be in that space so we can continue to grow and serve the needs of our clients," said Tony Rouse, founder and CEO of TEAM Concept. "We've been positioning the company to make a move like this for the last 18 to 24 months. We looked at the competition to make sure we were making the right decision. There's definitely other great equipment out there; however, our final decision came down to Komori's culture as a company—just knowing the fiber of who they are and that they are going to stand with us over the long term solidified our choice."

Rouse had been in the printing industry for more than a decade when he founded this company in 1998. Starting with eight employees and three small two-color presses, TEAM Concept predominantly acted as a trade printer working with brokers to resell the business cards and stationery the company produced. The business has grown over the years to accommodate changing customer demands. Today TEAM Concept employs 80 people and is expanding its plant to 60,000 square feet.

In 2008, Rouse and his partner, Vince Manini, obtained their first Komori, a 20" x 28" half-size press, through the acquisition of another firm. Since then, the company has added a Komori SX29 with H-UV capability. The SX29 enabled Rouse to get into specialty packaging, which currently accounts for 10-15% of its work. With the new GL640, he is looking forward to having the capability to handle larger packaging projects that can be produced on difficult stocks, like uncoated or matte, and to create special effects and embellishments with specialty UV coatings and reticulating varnishes. Additionally, Komori has guided him in the addition of die-cutting and converting equipment, as well as folding and gluing equipment, to complete the production process.

"Working with Tony is always gratifying because he is so enthused about his business and what he can do for his customers," said Jacki Hudmon, senior vice president of sales and marketing for Komori. "We look forward to supporting TEAM Concept as the business grows with the expanded capabilities the GL640 will bring to the company."

Visit Komori America at https://www.komori-america.us/.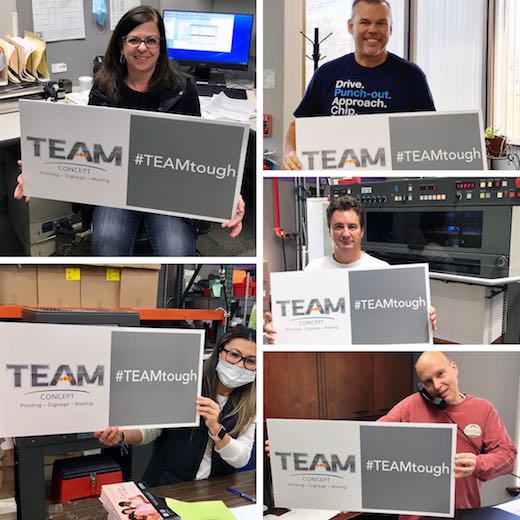 TEAM Concept employees as they kick off their #TEAMtough campaign, which declares that the tough pandemic situation is bringing out the toughness in those around us. Founder and CEO of TEAM Concept, Tony Rouse, is pictured in the upper right corner.