The Italian company, a specialist manufacturer of functional sportswear, conducted research and began producing masks in response to the COVID-19 crisis.
Using Mimaki sublimation printers, the masks can be customised, getting away from their connotation with hospitals and transforming them into a fashion accessory.

From functional sportswear to combatting the spread of the Coronavirus: Energiapura, an Italian manufacturer of clothing and accessories for ski racing and snowboarding, has leveraged its know-how and technology to conceive and develop – in a very short space of time – a protective mask that meets the Class I medical device requirements. The EP PA 2020 (Energiapura Pure Air) facial device, optimised for air filtering and breathability, provides many hours of protection while working, and can be reused. But Energiapura has gone even further, branding and customising the masks with sublimation printing. "Bold colouring has always distinguished the Energiapura brand, and we didn't want to abandon this, not even in the midst of the crisis", explains Alberto Olivetto, founder and CEO of Energiapura. "Sublimation printing allows us to give a brighter face to COVID-19. Our message is to add colour and a bit of optimism, precisely in these difficult times."
The EP PA 2020 is made up of three layers of fabric, in order to ensure optimised air filtering and breathability, and allow for washing, sanitising and reusing of the mask.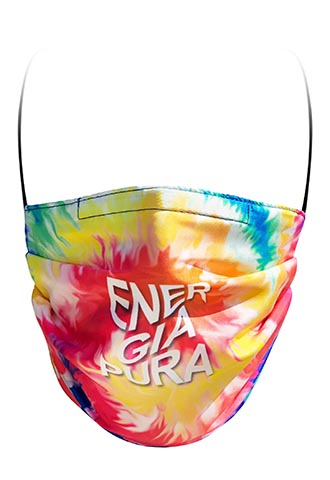 The EP PA 2020 protective masks by Energiapura can be customised with companies' logos or designs provided by customers.