West Caldwell, N.J. – One of the tricks skateboarders perform is known as grabbing air, short for going aerial where you ride with all four wheels off the ground. Brothers Chris and Grant Burns know all about it. After installing a new, 54-inch SABER® X-15 paper cutter with Microcut last November, they felt the same kind of rush. Understanding the benefits they experienced in the first 30 days, they ordered and had another same size new SABER installed two months ago at their business, BBS Manufacturing, with headquarters in San Marcos, California.
"We had older, manual guillotines for at least a decade. They had less safety features, no electronics, and started to develop phantom cuts," said Chris Burns, the company's Controller for the last five years.
He added, "Grant read some reviews and that's how we learned about Colter & Peterson. We replaced one of the guillotines and the SABER immediately helped with our efficiency. By the time we placed the order for the second machine in mid-January, the benefits were pretty evident. We are able to utilize more of our raw materials in the process, creating better efficiency across the board."
Grant Burns is the President and sole owner of BBS Manufacturing, a San Diego County company that was founded in 1996 and employs over 600 people. According to industry statistics, skateboarding had 6.5 million participants in 2018 and $4.8 billion worth of products are sold in North America each year. For the first time ever, the International Olympic Committee has added the sport to the program for the Summer Games in Tokyo, Japan. Because of the COVID-19 coronavirus crisis, those Olympics have been postponed until July 2021.
BBS is proving that Colter & Peterson machines like the SABER can be used to cut materials other than only paper.
"We use seven plies of hard maple laminate to form the deck of our skateboards, with each ply providing strength or flex to the deck depending on the direction of the wood grain. On top of the decks themselves, we produce the graphics that go on the board as well," explained Chris Burns.
"The cutters are used primarily to cut the veneer that comes to us in larger sheets that we first square up, then cut down to the desired dimensions. Skateboards are typically between 8 to 12 inches wide and either 36 or 48 inches long. There are other sizes and shapes of course, but it just comes down to what the customer wants. Automation makes these machines easier for our operators; it allows them to set the cutting intervals and is user friendly because it helps feed the material."
The automation is courtesy of the Microcut electronics program, which comes standard on all new Colter & Peterson SABER and PRISM paper cutters. Safety features of the SABER have also made an impact on the operators at BBS.
"Compared to our older guillotines, the new SABERS took a little time for our operators to adapt to. But they do cut material much quicker and make it easier to change out the blades on the machines themselves," said Chris, who indicated they run two, 10-hour shifts five days a week and sometimes on weekends.
Continuing, he mentioned that BBS uses screen printers and SATURN PLATINUM II™ flatbed graphic presses from M&R Companies before the decks make it to the finishing department. "Complex graphics take longer to produce. We do others that utilize multiple different screens, mix digital with screen printing, as well as special foils or inks effects. It can be very time consuming by the time everything is pressed up and trimmed."
BBS serves as a manufacturer for wholesalers. Ninety percent of its sales is to a domestic audience, and they also supply customers in Canada, Europe and South America. Burns says having the newfound efficiency of the two SABERs has dramatically affected the ability to produce what is needed for their customers.
"Skateboards haven't changed much for many decades. One of the most important things to consider is the quality of the materials and its construction. These machines are an integral part of our process to produce the highest quality skateboards riders in the industry have come to expect."
For more information, call (800) 932-0780 or visit www.papercutters.com.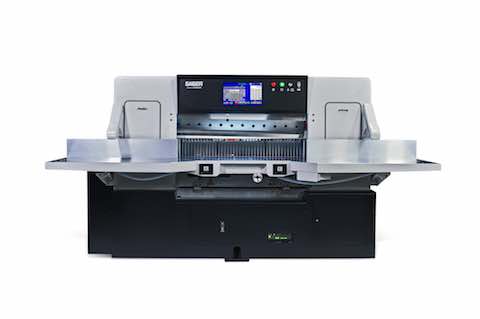 BBS Manufacturing experienced immediate success with a 54-inch SABER in late 2019, so they ordered a second machine that arrived earlier this year.