Matthews, N.C. – Fisher Textiles, the leading supplier of fabrics for digital printing, has added GF1850 Rebound ® Ultra Lite, a lightweight version of its popular GF2000 Rebound ® printable carpet, to its Grand Format lineup for dye sublimation printing.
GF1850 Rebound ® Ultra Lite is an anti-skid, rubberbacked printable carpet consisting of a nonwoven face and a basket weave backing. It has been engineered for dye sublimation transfer printers, weighs 35 oz/yd 2 and is available 126 inches wide. Rebound ® is resilient and does not hold a form when weight has been applied and released. This product is FR and meets 16 CFR Part 1630 and 16 CFR Part 1631, required by The Consumer Product Safety Commission for carpet materials. Uses include short-term carpet for events, trade show floor graphics, POP displays for retail advertising, bar mats and floor mats.
Contact Fisher Textiles at 800-554-8886 or on the web: fishertextiles.com for more information.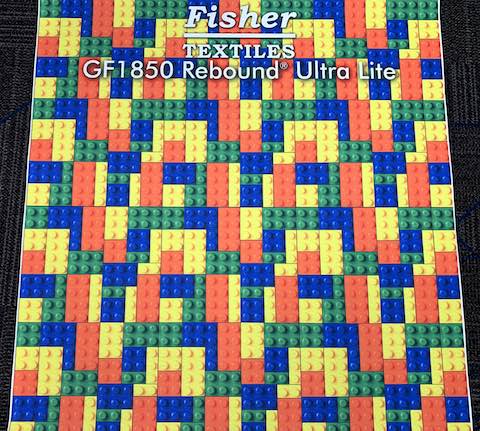 Printed children's floor mat on Fisher's GF1850 Rebound ® Ultra Lite.