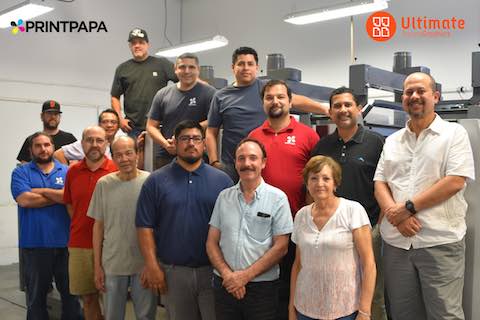 Montreal, Canada – Ultimate TechnoGraphics, leader in imposition and finishing automation software, is proud to work with PrintPapa, a successful online printing company based in Santa Clara, California, and together have made them the competitive leader not only locally but also in larger markets outside their local region with increasing success.
These two companies met at a time where PrintPapa was experiencing a bottleneck in their prepress department due to the increase of incoming jobs through their online system ordering. When the orders were placed on their new website, they found themselves having to manually collect and impose the input files to prepare them for print production. Today, PrintPapa have enhanced their workflow capabilities with Ultimate TechnoGraphics' powerful and effective imposition software solution.
Dynamic Hot Folder Automation
''Ultimate Impostrip®' s automated workflow and hot folder support was a perfect way to solve our problem'' shares Shawn Nag, owner of PrintPapa. ''We found we could streamline our process by mapping each of his different products on our website to a configured and published hot folder in Ultimate Impostrip®.'' As they added different products to the website, all they had to do was just configure and publish another hot folder to support the requirements of that product.
Initially PrintPapa started with about 10 products and hot folders and they now has over a thousand products and growing.
Ganging Optimization
One of the bigger advances for PrintPapa was the introduction of Ultimate Impostrip® AutoFlow (ganging) functionality. This has enabled them to reduce the number of hot folders by product by using AutoFlow supported hot folders based on sheet size and finishing requirements, streamlining new product setup, production and waste even further.
Expanding Business Offering
Automating their workflows has enabled them to go from one AB Dick single color press with a T-head printing letterheads and business cards 15 years ago, to a mix of offset, digital and large format presses producing a wide variety of products today.
According to Shawn, finding and implementing Ultimate Impostrip® was "one of the most important components of their production system".
To read the full story and to learn more about their finishing choices, please visit: https://imposition.com/testimonial/printpapa-grows-business-with-ultimate-automation/