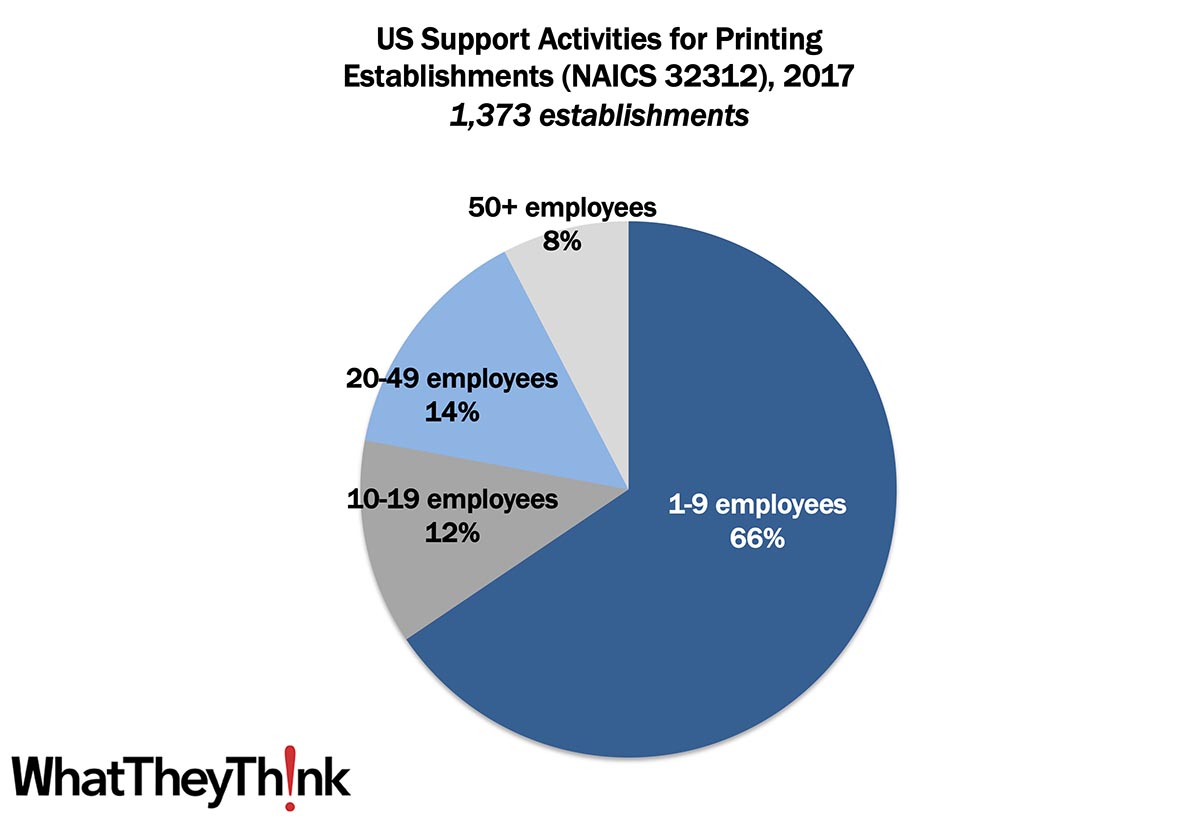 Last November, the latest edition of the Census Bureau's County Business Patterns was released, which provides establishment counts and other data up to 2017. In January, we began updating our data series starting with 323 (Printing and Related Support Activities). This week, we look at Support Activities for Printing (NAICS 32312)—basically prepress and binding/finishing businesses.
In 2017, the most recent year for which we have data, there were 1,373 total U.S. establishments offering prepress and/or postpress services. Two-thirds of these establishments (66%) had fewer than 10 employees, and more than three-fourths (78%) had fewer than 20. Only 8% had 50 or more employees. (Once upon a time,, County Business Patterns had broken out pre- and postpress facilities separately. Before 2012, which was when the two support service classifications were merged, the balance was about 56% prepress and 44% postpress.) These businesses tend to be a little smaller than commercial printing establishments in general, and a little larger than some of the sub-markets like screen or book printers. As we will remark in a later installment in this series, the number of these establishments has been declining, largely because prepress as a discrete process is vanishing, becoming either part of order intake or production, and thus there is little need for an outside business like the service bureaus or color separators of yore to perform these kinds of functions, especially in a digital printing workflow. At the other end, print businesses have been acquiring their own in-house binding and finishing capabilities to install either inline or nearline, as faster turnaround times have precluded the ability to outsource binding and finishing work, except in cases of unusual or highly specialized finishing processes.
In 2018, we began highlighting data from our Commercial Printing Establishments, which complements and supplements our regular tracking of printing industry shipmentsand other industry data. These counts are based on data from the Census Bureau's County Business Patterns. Throughout this year, we will be updating these data series with the latest CBPfigures. County Business Patterns includes other data, as well, such as number of employees, payroll, etc. These counts are broken down by commercial printing business classification (based on NAICS, the North American Industrial Classification System):
323 (Printing and Related Support Activities)
32311 (Printing)
323111 (Commercial Printing, except Screen and Books)
323113 (Commercial Screen Printing)
323117 (Books Printing)
32312 (Support Activities for Printing—aka prepress and postpress services)
In addition to establishments, we will be breaking establishment and other CBP data down in different ways. In the next installment, we will start looking at 10-year establishment count trends for these NAICS categories.
These data, and the overarching year-to-year trends, like other demographic data, can be used not only for business planning and forecasting, but also sales and marketing resource allocation.