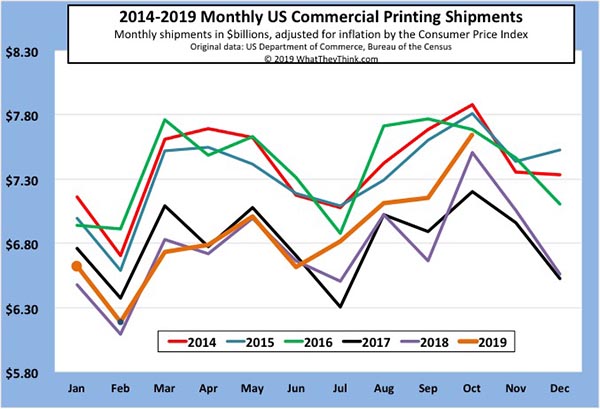 October printing shipments took an expected but surprisingly large upward turn, coming in at $7.65 billion, a substantial increase from September's $7.14 billion and above October 2018's $7.51 billion. In fact, October's shipments are only a hair's breadth below October 2016's $7.69 billion.
As a result, year-to-date shipments for 2019 continue to outpace 2018—January-to-October shipments for 2019 are at $68.69 billion compared to 2018's $67.47.
It still continues to look like 2019 will be the best year the printing industry has had since 2016, and as we remarked last week, our Fall 2019 Business Outlook Survey Data bears this out, even if print businesses are a little cautious about expecting 2020 to be as good, let alone better.
If history is any guide, the next two months will see a slowdown in shipments—but, hey, we've been pleasantly surprised before. So for now, let's raise a glass of holiday cheer and celebrate an exceptionally good year for the printing industry.
Speaking of our 2020 Outlook Report, look for it to be released in mid- to late January 2020.