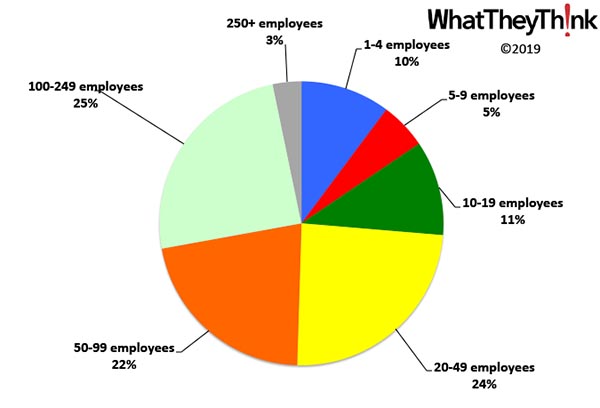 In our ongoing look at establishment and employee counts of graphic arts businesses, we have been looking at packaging/paper converting establishments. This week, we take a look at 32221 (Paperboard Container Manufacturing).
The Census Bureau defines this NAICS as:
This industry comprises establishments primarily engaged in converting paperboard into containers without manufacturing paperboard. These establishments use corrugating, cutting, and shaping machinery to form paperboard into containers. Products made by these establishments include boxes, corrugated sheets, pads, pallets, paper dishes, and fiber drums and reels.
In 2016, there were 1,971 establishments in NAICS 32221. Fifty percent of these establishments had 50 or more employees, and 74% had 20 or more employees.
Other categories in NAICS 3222 include:
32221 Paperboard Container Manufacturing
322219 Other Paperboard Container Manufacturing
322220 Paper Bag and Coated and Treated Paper Manufacturing
32223 Stationery Product Manufacturing
322230 Stationery Product Manufacturing
32229 Other Converted Paper Product Manufacturing
322291 Sanitary Paper Product Manufacturing
322299 All Other Converted Paper Product Manufacturing
These establishment counts are based on data from the Census Bureau's County Business Patterns. These data, like other demographic data, can be used not only for business planning and forecasting, but also sales and marketing resource allocation.
Note: As of November 2019, County Business Patterns data has been updated to include the 2017 reference year. We will be rolling out these updates over the next few months.