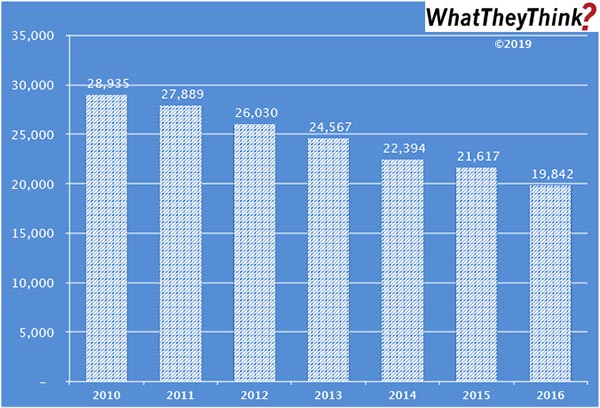 Last month in our industry "slice and dice" data series, we began looking at historical employment in the various printing industry segments, and this week, we look at employment in book printing establishments. In 2010, there were a total of 28,935 employees in U.S. book printing establishments (NAICS 323117). By 2016, book printing employment had dropped -31% to 19,842.
As we said when we discussed book printing establishments, which had declined -21% in this period, a lot of this decline has been the old story of consolidation, and some of it is likely the result of shop diversification: today's equipment (production inkjet in particular) can produce a variety of print products, so shops don't have to stick to any one particular niche the way they used to. So some quantity of "book printers" may not consider themselves just book printers, and thus classify themselves as general commercial printers—or some other business classification that better describes the business.
This seems as good a place as any to remark on a Washington Post article that appeared last week which reported that "As of this month, 'printer' and 'screen printer' are no longer official jobs — at least as far as the Labor Department's flagship release is concerned. The same goes for 'printing support' jobs such as platemaking and prepress work." (Read PIA's response here.) While WhatTheyThink typically relies on data from the Census Bureau (in the Commerce Department, not Labor) which publishes the Economic Census and County Business Patterns, they all share data for key information reports so these changes will ripple through all government data gathering and reporting, and it's not a unilateral decision on the part of the Bureau of Labor Statistics.
We should not be surprised; every five-year Economic Census triggers a NAICS revision somewhere, and printing is no stranger to them. As we remarked a couple of weeks ago, the two separate "prepress" and "binding" NAICS categories had been consolidated in 2012 into the catchall "support services for printing" (although the WaPo article suggests that the whole "support services" classification is now being done away with) and individual prepress NAICS such as "color separators" and "platemakers" vanished more than a decade ago. As the WaPo article indicates, our industry is not alone. Industries and markets are dynamic things; we should not be surprised—especially today—that the old classifications are no longer entirely relevant.
There is no doubt that printing will still be tracked somewhere. The current NAICS system for printing (see below) is still in effect as of the 2017 Economic Census (which they are working on now and will start releasing this year), but in 2022 we will probably see further NAICS consolidation. NAICS 323 will undoubtedly still exist, but there will likely be fewer—if any—smaller NAICS breakdowns.
(It also bears mentioning that these agencies have always focused on large industries with large enterprises, and that industries dominated by small establishments—like print—have never received detailed attention from the Feds, especially now that traditional print categories are such a small part of overall GDP unlike three decades ago.)
After all, screen printers (as an example) that are adding digital equipment...would they likely classify themselves as "screen printers" or as something else? The trick for analysts and statisticians is to find out what that "something else" is and where it's tracked. It's also entirely possible that printers who listened to the analysts and became "marketing services providers" now classify themselves not in a manufacturing NAICS like 323 but rather in a services NAICS like 541. It's all about what these businesses consider themselves to be—not what we would like them to be.
There are still plenty of businesses in our industry—we just need to find out where they are, statistically speaking.
Anyway, back to our data series. Last year, we began highlighting data from our Commercial Printing Establishments, which complements and supplements our regular tracking of printing industry shipments and other industry data. These counts are based on data from the Census Bureau's County Business Patterns, but County Business Patterns includes other data, as well, such as number of employees. As you recall from our establishments data over the past months, these counts are broken down by commercial printing business classification (based on NAICS, the North American Industrial Classification System):
323 (Printing and Related Support Activities)
32311 (Printing)
323111 (Commercial Printing, except Screen and Books)
323113 (Commercial Screen Printing)
323117 (Books Printing)
32312 (Support Activities for Printing—aka prepress and postpress services)
These data, and the overarching year-to-year trends, like other demographic data, can be used not only for business planning and forecasting, but also sales and marketing resource allocation.
Every other week, in addition to establishments, we will be breaking these employment and other CBP data down in different ways.