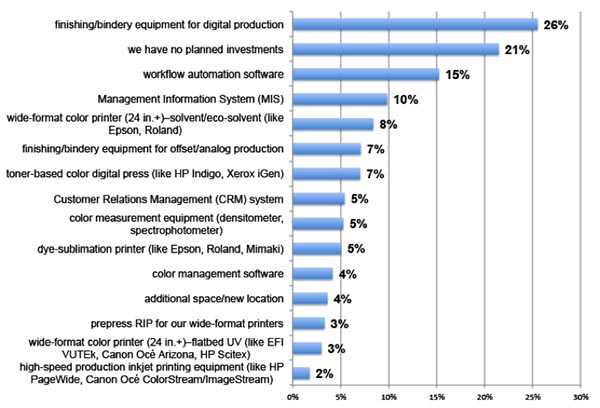 What are print businesses planning to buy in 2018? Well, not a great deal. The number one item is "bindery equipment for digital production" (26%, up from 22% in last year's survey). The number two response was actually in the top spot last year: "we have no planned investments," selected by 21%, down from 25%.
Software occupies the next two spots—"workflow automation" and "MIS," selected by 15% (unchanged from a year ago) and 11% (up one point), respectively. Automation is one perceived solution to the productivity problem, and MIS is seen as a solution to the pricing challenge, as understanding costs is a key to understanding pricing.
Rounding out the top five is an eco-solvent wide-format printer (24 inches or greater), selected by 8% of respondents. It was at 2% a year ago.
Generally, there are few planned investments industry-wide, and that's not a great surprise. Most substantial investments in this industry are multi-year investments, and now we're in a cycle where they don't need any major new equipment and there's nothing they find compelling to buy. Back in the 90s and 00s, production software like Photoshop, Illustrator, or QuarkXPress/InDesign was always top-of-investment-list items, as shops prepared and budged for updates and new versions. In the era of Adobe Creative Cloud, where software doesn't need to be updated the way it used to be (it's now a subscription model and legacy non-cloud versions are no longer supported), it isn't thought of as a specific line item.
***
WhatTheyThink's Printing Forecast 2018 report provides detailed analysis of the most recent Print Business Outlook Survey, the latest industry economic data and macroeconomic trends, as well as industry and cultural technological trends to look out for in 2018.