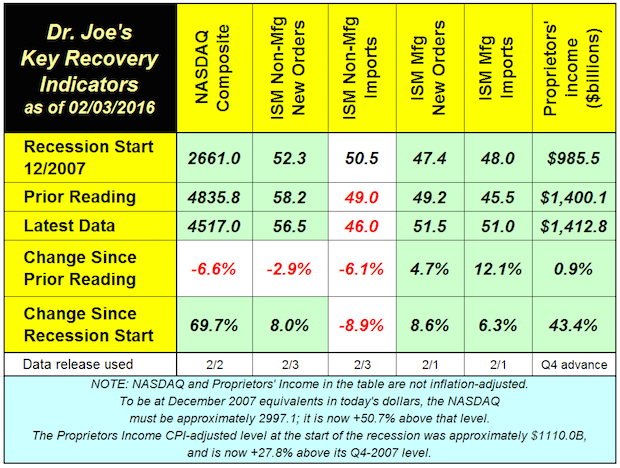 The monthly recovery indicators were uneven again. The NASDAQ fell almost -7% in the last month, and ISM non-manufacturing new orders and imports also declined.
Those imports are now lower than they were at the start of the recession in December 2007.
The overall ISM manufacturing index showed that sector in contraction as it moved from 48.0 to 48.2; any reading below 50 reflects contraction. We're most interested in the new orders and imports components of the manufacturing index, and both of those improved since last month.
The other pieces of the ISM manufacturing index were not good: inventories, employment, and backlogs are contracting.
While manufacturing employment is falling, non-manufacturing employment is still growing, but at a slower rate.
Proprietors' income, a measure of the health of small business, increased +0.9% on an annual basis in the fourth quarter. This figure is not adjusted for inflation. Real GDP increased in the fourth quarter +0.7%, and on an unadjusted basis was +1.5%. This means that small business is now lagging the overall economic. The recovery which started in mid-2009 has been weak from a small business perspective.