Drawing on six years' worth of Print Business Outlook surveys, our "Tales from the Database" series looks at historical data to see if we can spot any particular hardware, software, or business trends. This issue, we turn our attention to specialty printing—or any printing beyond traditional offset or digital commercial work.
These surveys form the basis of our annual Printing Outlook reports, the most recent of which (2023) is available here. In every survey, we ask a broad cross-section of print businesses about business conditions, business challenges, new business opportunities, and planned investments. In our Business Outlook reports, we tend to focus (obviously) on the most recent survey data, occasionally looking back a survey or two to see how these items have changed in the short-term. Plumbing the depths of our survey database can give us a better sense of how these trends have changed since the mid-2010s.
This is the wide format, display graphics, and textiles and apparel issue, so we rounded up a few opportunities and investments related to adding not only things like wide-format printing and textile printing capabilities, but also packaging as well as other types of specialty printing. Let's see what history can tell us.
New Business Opportunities
As we have chronicled in many other places, if we had been conducting these surveys between 2010 and 2015, it's likely that "adding wide-format printing capabilities" would have been higher than 20% for at least some of that period, as that was the "golden age" of expansion by commercial printers (and other businesses such as photo labs and service bureaus) into display graphics. As it is, the mid-2010s is when we started to see all the print businesses that were likely to expand into wide format already having done so, which is why the wide-format opportunity has not exceeded 10% since 2018.
What then do print businesses see as the hot new area to expand into? It doesn't appear to be any one thing; the choppiness of "adding packaging printing capabilities" suggests some ambivalence, although in 2021 it did chart the highest in the history of your survey. Likewise "adding textile/fabric printing capabilities," which was cited as a business opportunity by 6% of survey respondents in our most recent survey. We added "adding digital label/wrapper printing capabilities" in 2019 and it has been slowly climbing so that bodes well for that sector of the market. Likewise "adding specialty/industrial printing capabilities"—although we will need to clarify what we mean by this as we have discovered anecdotally that many print businesses and even equipment vendors think of packaging as industrial printing. (See Figure 1.)
Figure 1: Wide format, packaging, and textile printing-related business opportunities.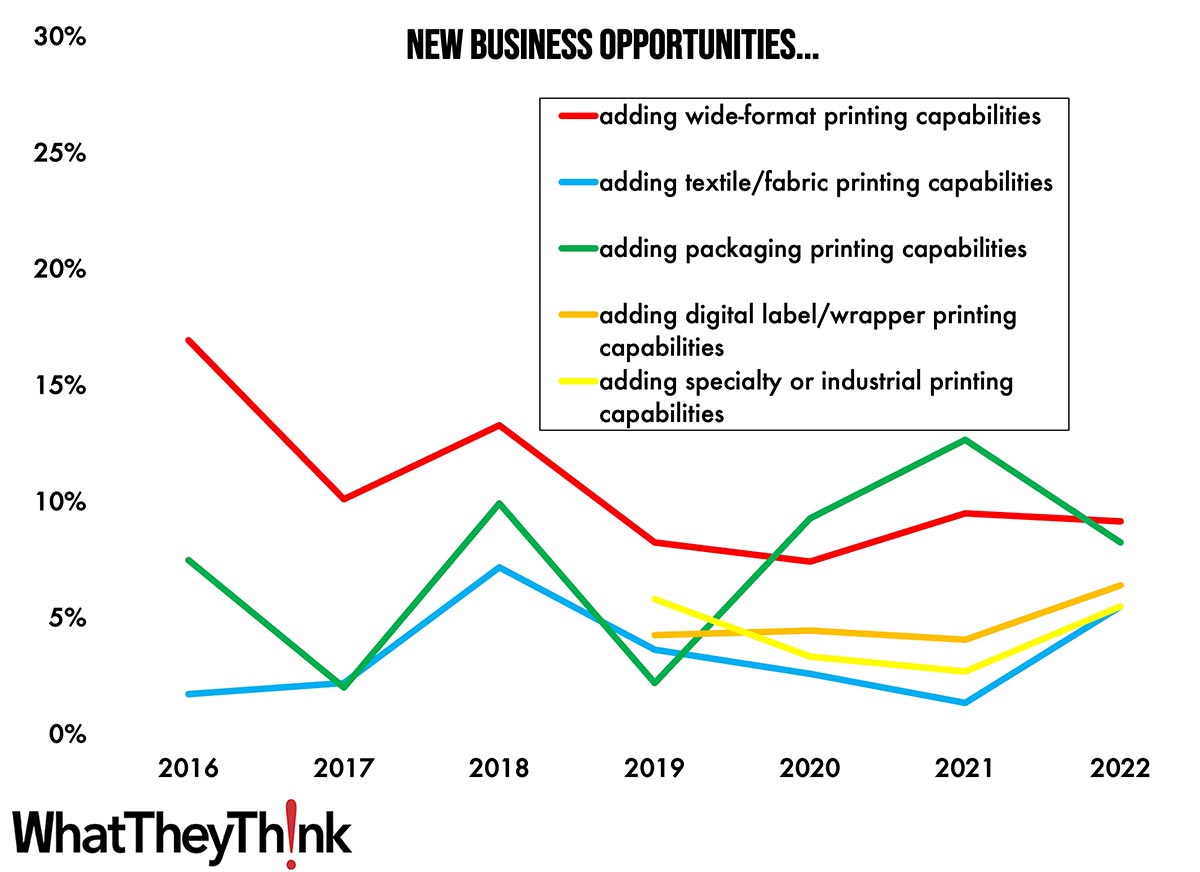 In 2020 and 2021, we added some other items to the list of potential new business opportunities, which are still in the lower reaches of our new business opportunities list (see Table 1).
Table 1: Adding new signage, wrapping, and 3D printing business opportunities.
| | | | |
| --- | --- | --- | --- |
| | 2020 | 2021 | 2022 |
| adding dynamic digital signage (DDS) capabilities | 0% | 2% | 2% |
| adding vehicle graphics/wrapping capabilities | 1% | 1% | 2% |
| adding traditional signage fabrication/construction capabilities | 2% | 2% | 3% |
| adding 3D printing capabilities | - | 2% | 3% |
And in our most recent survey, we expanded the textile and apparel opportunities (see Table 2).
Table 2: Drilling down into textile and apparel printing business opportunities.
| | |
| --- | --- |
| | 2022 |
| adding textile/fabric printing for apparel | 2% |
| adding textile/fabric printing for décor/furnishings | 4% |
| adding textile/fabric printing for soft signage | 6% |
| direct-to-textile dye sublimation printer (like Kornit) | 4% |
Anecdotally, we have been hearing of a number of print businesses expanding into textiles, so we will definitely be monitoring this going forward.
Planned Investments
In terms of what print businesses are planning to purchase, flatbed UV wide-format printers have broken away from the pack, as vendors' portfolios have expanded such that there is equipment available for virtually any productivity level or price point. Solvent/eco-solvent printers aren't the hot items they once were but investment has rebounded in our most recent survey, as has interest in dye-sub printers for fabric printing. They tend to track not far behind the perception of textile/fabric printing as an opportunity. (See Figure 2.)
Figure 2: Wide-format and textile printing-related investments.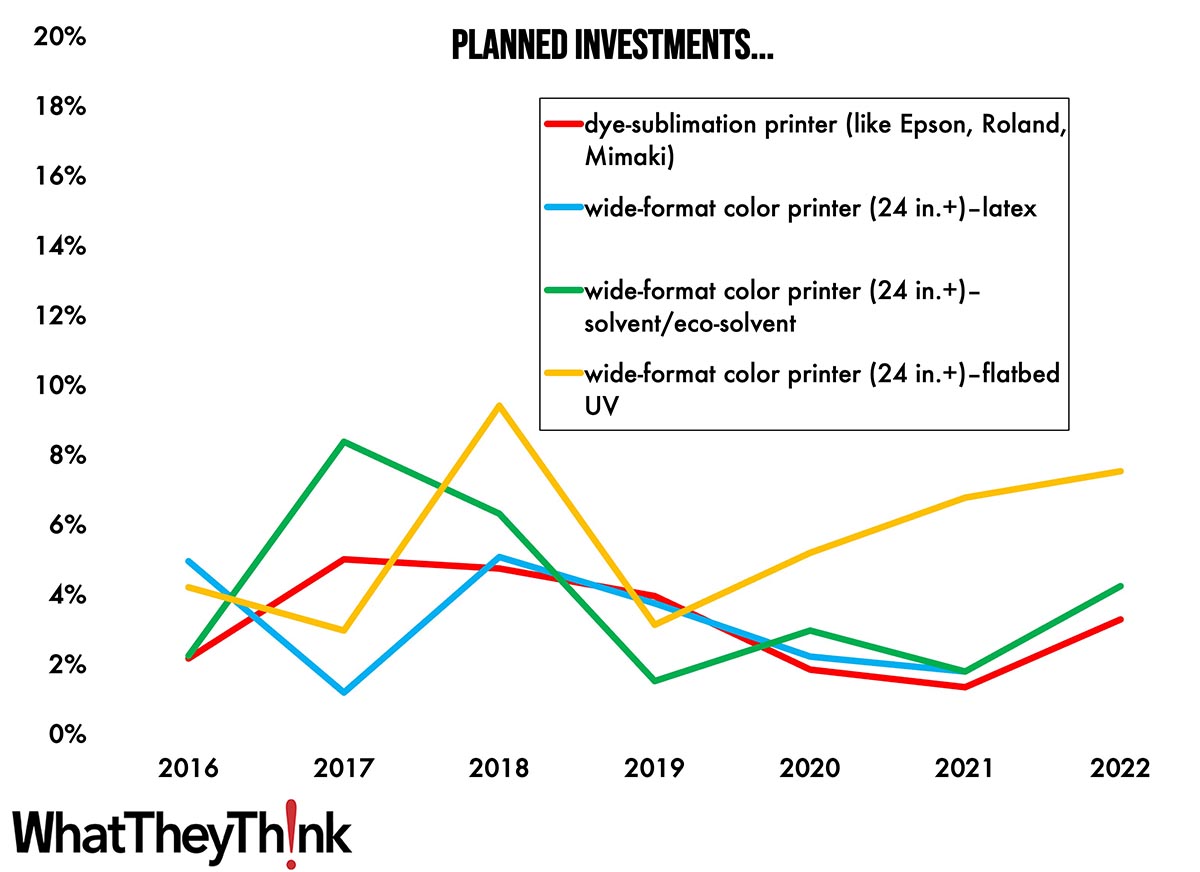 In 2020 and 2021, we added some other related investment categories to the questionnaire (see Table 3).
Table 3: Assorted new planned investment categories.
| | | | |
| --- | --- | --- | --- |
| | 2020 | 2021 | 2022 |
| 3D printer | 2% | 1% | 3% |
| CNC routers and/or other signmaking equipment | 3% | 5% | 2% |
| direct-to-garment printer (like Ricoh/Anajet, Epson) | - | 1% | 3% |
As for label and packaging printing equipment, digital label equipment seems to be where it's at, although corrugated, folding carton, and flexible packaging printing equipment all ticked up in 2022. We are curious how much of this is digital vs. flexo/offset vs. bespoke, so this is one topic we will have to drill down into further in our next survey. (See Figure 3.)
Figure 3: Label and packaging printing-related investments.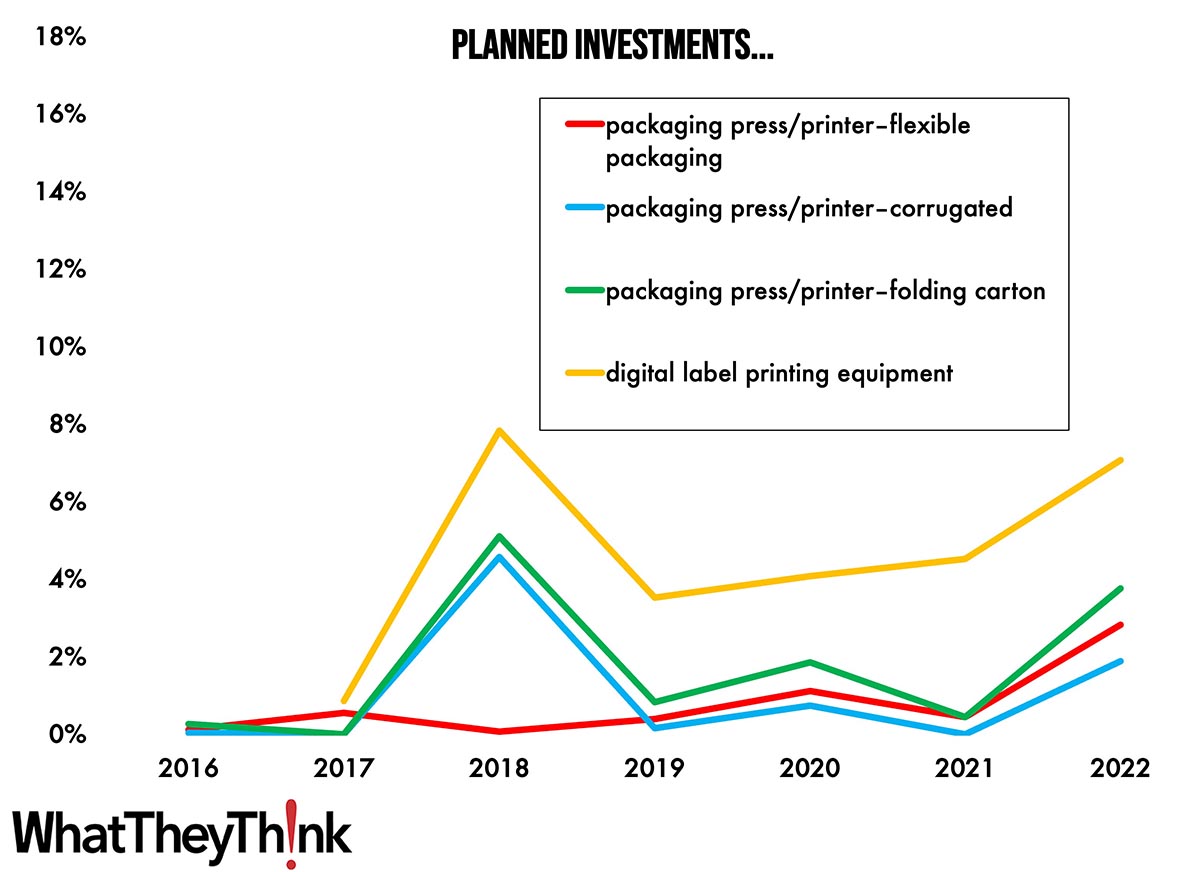 Printers are still casting about for the next big market to break into that their competitors haven't yet. Some are exploring packaging, some are exploring textiles, but digital label printing looks the most promising at the moment. Stay tuned.
Breaking this data down by size of shop is also illustrative, and is a topic for further research.