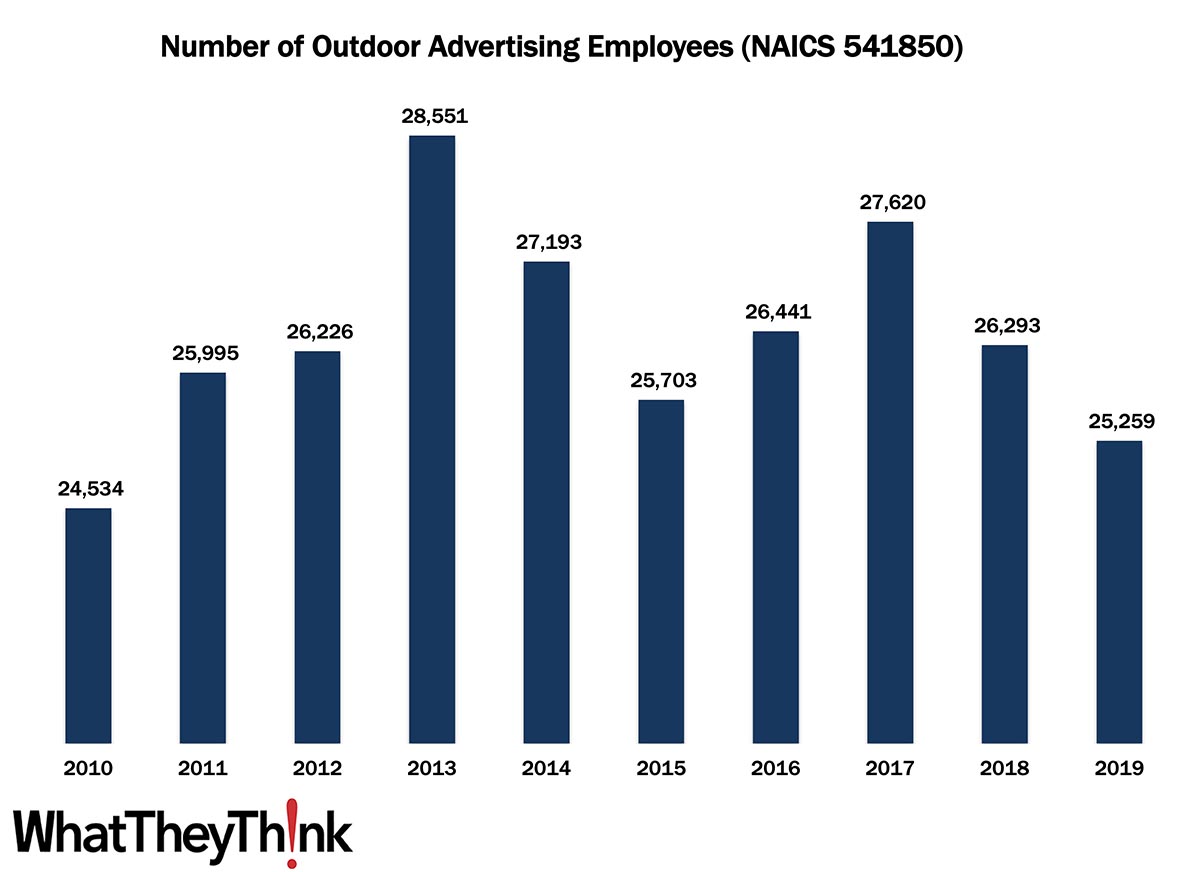 According to County Business Patterns, in 2010, there were 24,534 employees in NAICS 541850 (Outdoor Advertising). This NAICS actually grew post-Great Recession, with a slight decline mid-decade before climbing back up to 27,620 establishments in 2017. 2018 and 2019 saw a drop in employees.
The Bureau of the Census definition for this business classification:
This industry comprises establishments primarily engaged in creating and designing public display advertising campaign materials, such as printed, painted, or electronic displays; and/or placing such displays on indoor or outdoor billboards and panels, or on or within transit vehicles or facilities, shopping malls, retail (in-store) displays, and other display structures or sites.
As we explained when we looked at establishments, prior to 2012, this category had been called "Display Advertising," and 2012 onward reflects the period when wide-format printing started to become a force to be reckoned with. Some of the specific products that are produced by establishments in this NAICS include:
Advertising services, indoor or outdoor display
Advertising, aerial
Billboard display advertising services
Bus card advertising services
Bus display advertising services
Indoor display advertising services
Out-of-home media (i.e., display) advertising services
Outdoor display advertising services
Store display advertising services
Subway card display advertising services
Taxicab card advertising services
Transit advertising services
All of these items were growth areas in the 2010s, as the advent of new wide-format printing systems lowered the barriers to entry to producing these kinds of materials. The Census never had a specific NAICS for "wide-format printing establishments," but this is the closest they ever came to having one. As for the declines toward the end of the decade, chalk that up to consolidation as well as the adoption of wide-format printing by general commercial printing (NAICS 323), with "outdoor advertising" largely coming to refer to billboards and the like rather than the disparity of wide-format applications that were seen earlier.
Next up in our data slice'n'dice series, we're going to start looking at annual payroll in printing establishments, which include the following NAICS categories:
323 Printing and Related Support Activities
32311 Printing
323111 Commercial Printing (except Screen and Books)
323113 Commercial Screen Printing
323117 Books Printing
32312 Support Activities for Printing
These counts are based on data from the Census Bureau's County Business Patterns. Every other week, we update these data series with the latest figures. These data, and the overarching year-to-year trends, like other demographic data, can be used not only for business planning and forecasting, but also sales and marketing resource allocation.
This Macro Moment
Every now and then, we like to check in with the American Institute of Architects (AIA) Architecture Billings Index (ABI), which is a leading indicator for new commercial real estate investment and thus potential new signage projects. According to the AIA, in February, demand for design services continued to grow, although there are some worrying indications:
AIA's Architecture Billings Index (ABI) score for February was 51.3, up from a score of 51.0 in January. Any score above 50 indicates an increase in billings. Firms reported both project inquiries and design contracts remaining positive in February, but while project inquiries increased to 62.5 from 61.9 in January, design contracts decreased to 55.2 from 56.1.
"Despite the continued healthy demand for design services, activity is plateauing as firms face a myriad of external challenges, from staffing to supply chain disruptions to high inflation and rising interest rates," said AIA Chief Economist, Kermit Baker, Hon. AIA, PhD. "While the rebound from the pandemic has positively impacted firms in most regions, the prolonged lack of demand for design services in the Northeast is of growing concern."
The ABI includes commercial and industrial facilities like office buildings, hotels, schools, hospitals, and other institutions, as well as multi-family residences.
The ABI has been above 50 for just over a year, which is good news. The rule of thumb is that this index leads actual commercial real estate investment by about 9–12 months, so, barring any further supply chain disruptions or another massive COVID wave (i.e., the BA.2 subvariant), there looks to be a pick-up in real estate development as we head through 2022. Sign businesses should keep an eye on construction activity in their area to get a jump on involvement in these projects.