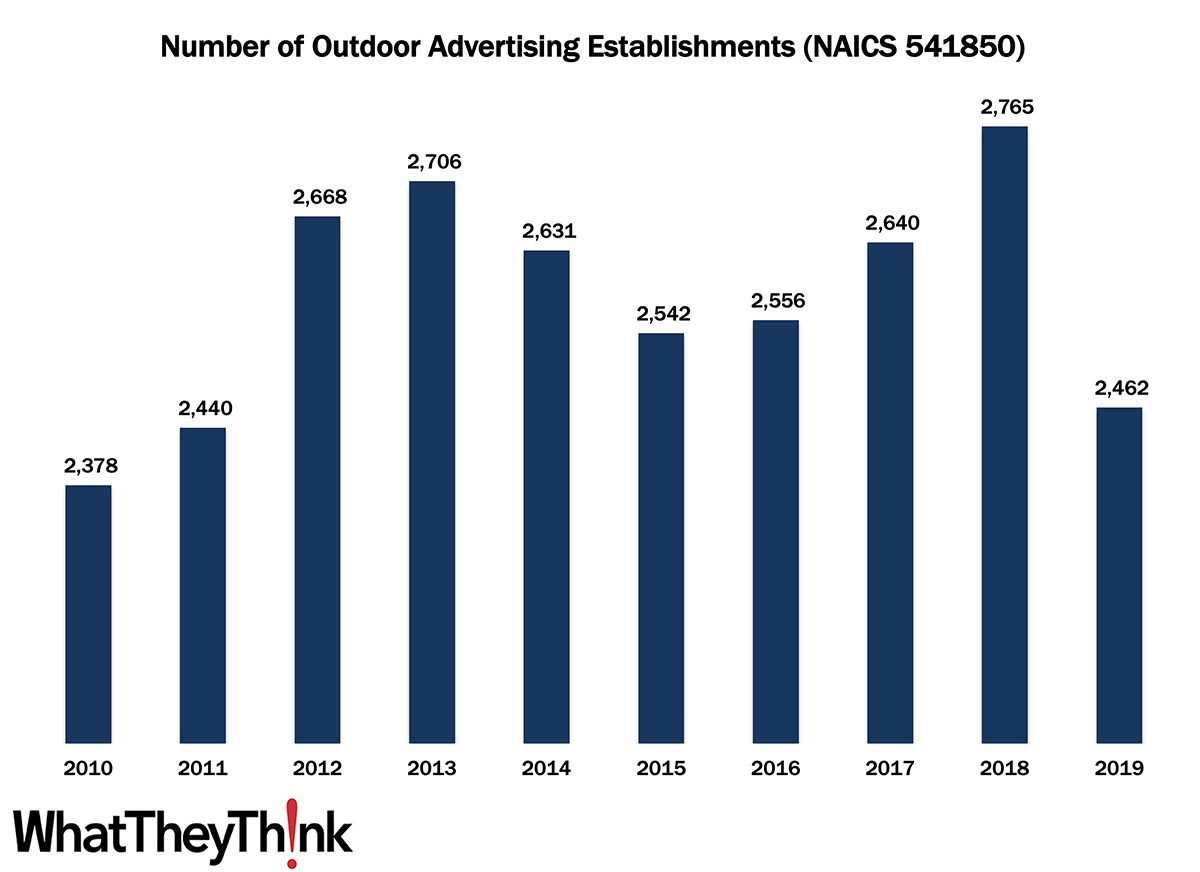 According to County Business Patterns, in 2010, there were 2,378 establishments in NAICS 541850 (Outdoor Advertising). This NAICS actually grew post-Great Recession, with a slight decline mid-decade before climbing back up to 2,765 establishments in 2018. 2019 saw a massive drop in establishments.
The Bureau of the Census definition for this business classification:
This industry comprises establishments primarily engaged in creating and designing public display advertising campaign materials, such as printed, painted, or electronic displays; and/or placing such displays on indoor or outdoor billboards and panels, or on or within transit vehicles or facilities, shopping malls, retail (in-store) displays, and other display structures or sites.
Prior to 2012, this category had been called "Display Advertising," and 2012 onward reflects the period when wide-format printing started to become a force to be reckoned with. If you look at some of the specific products that are produced by establishments in this NAICS:
Advertising services, indoor or outdoor display
Advertising, aerial
Billboard display advertising services
Bus card advertising services
Bus display advertising services
Indoor display advertising services
Out-of-home media (i.e., display) advertising services
Outdoor display advertising services
Store display advertising services
Subway card display advertising services
Taxicab card advertising services
Transit advertising services
All of these items were growth areas in the 2010s, as the advent of new wide-format printing systems lowered the barriers to entry to producing these kinds of materials. The Census never had a specific NAICS for "wide-format printing establishments," but this is among the closest they ever came to having one. As for the declines toward the end of the decade, chalk that up to consolidation as well as the adoption of wide-format printing by general commercial printing (NAICS 323), with "outdoor advertising" largely coming to refer to billboards and the like rather than the disparity of wide-format applications that were seen earlier.
Next up in our data slice'n'dice series, we're going to circle back and look at employees in:
NAICS 33995 Sign Manufacturing
NAICS 541850 Display/Outdoor Advertising
This Macro Moment
Yesterday, it was announced that Q4 2021 GDP was revised up by one-tenth of a percentage point. Said the BEA:
Real gross domestic product (GDP) increased at an annual rate of 7.0 percent in the fourth quarter of 2021 [up from 6.9], according to the "second" estimate released by the Bureau of Economic Analysis. In the third quarter, real GDP increased 2.3 percent [which was unchanged].
This new estimate "is based on more complete source data than were available for the 'advance' estimate issued last month." Specific upward revisions included nonresidential fixed investment, state and local government spending, and residential fixed investment. There were also downward revisions to personal consumption expenditures (PCE) and exports.
For those playing along at home, predictions are coming in for Q1 2022, which range from 1.3% to 2.5%. Place your bets!